Gluten free almond cake with a Mascarpone chocolate layer. It's fairly easy to make and quick enough to happily enjoy without spending a day in the kitchen.
As I most recently have some time, I was looking on the web last week. Trying to find new, stirring ideas, inspiring dishes that I've never tasted before, to impress my family with. Looking for quite some time unfortunately could not find lots of interesting things. Right before I thought to give up on it, I came upon this delightful and simple treat simply by luck over Suncakemom. The dessert looked so mouth-watering on its image, it called for immediate actions.
It had been simple enough to imagine the way it's created, its taste and how much my husband might love it. Mind you, it is extremely simple to keep happy him when it comes to puddings. Anyways, I visited the page and simply followed the detailed instuctions that were accompanied by nice pictures of the operation. It really makes life less difficult. I could imagine that it's a bit of a inconvenience to shoot photographs in the midst of cooking in the kitchen as you usually have gross hands therefore i pretty appreciate the time and effort she put in to build this post .
That being said I am empowered presenting my own, personal recipes in a similar way. Appreciate your the thought.
I was fine tuning the main recipe to make it for the taste of my loved ones. I have to mention it turned out an incredible success. They enjoyed the flavor, the structure and loved having a treat such as this during a lively week. They quite simply asked for lots more, more and more. So the next time I am not going to commit the same miscalculation. I'm gonna twin the quantity .
This almond cake recipe recipe is from SunCakeMom.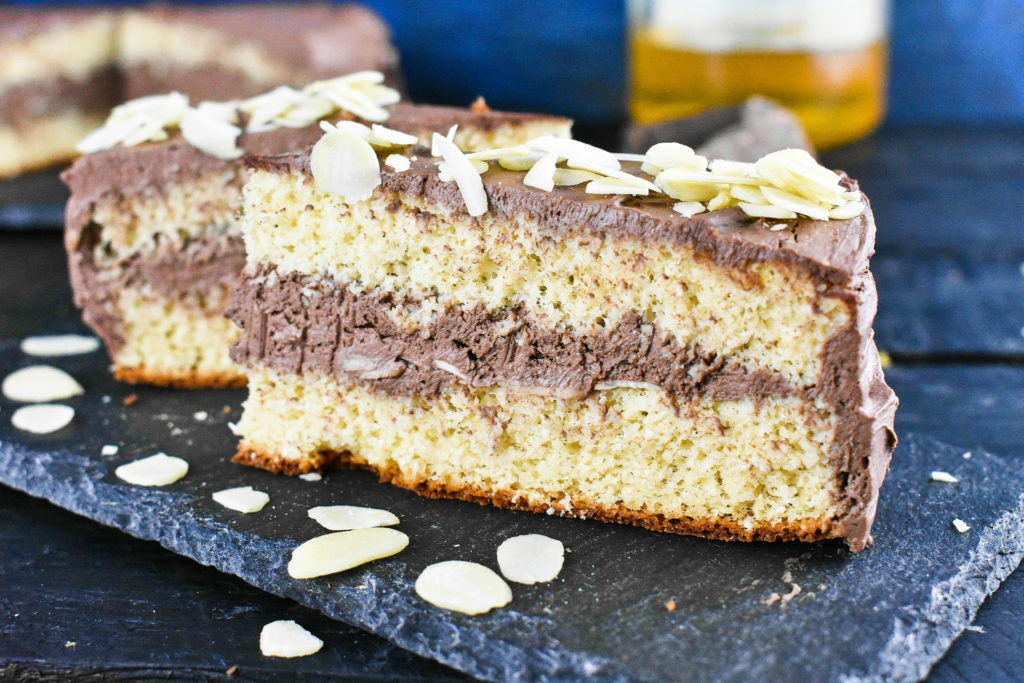 Base:
Measure ingredients. If there is no almond flour, we can always grind whole almonds easily. Also some of the almond flour can be substituted with other type of flour like corn if there is a need for that.
Mix baking powder with the almond flour. So the dry ingredients are ready to be used.
Break and separate eggs. Put egg whites into a medium size mixing bowl. Keep yolks apart.
Beat egg whites on high speed until hard peaks form.
Turn beater in low speed and add yolks to the whites slowly one by one whilst keep beating the whites.
Now mix Agave or other sweetener of our choice to the batter.
Put dry ingredients and coconut milk to the batter alternating between the two.
Mix until the batter is smooth and the ingredients are incorporated nicely.
Pour batter into the cake form and put it into the preheated oven for about 40 minutes to bake.
As each oven is different after half an hour check it with a toothpick if it's baked. (Poke toothpick into the cake and if it comes out without anything sticking on it, the cake is ready to come out of the oven.) Baking time always depends on the oven. Whilst the cake base is baking, use the time to make the cream.
Cream:
Beat whipped cream with the vanilla extract.
Put mascarpone, unsweetened cocoa powder and Agave syrup or any sweetener of choice into a medium size mixing bowl.
Beat them together until it becomes creamy and soft.
Fold in whipped cream with the chocolatey mascarpone as carefully as possible.
Cut off some of the top and trim the cake around if necessary to get a fairly even surface to spread the chocolate on.
Cut it in half horizontally in the middle. We can use a piece of yarn for this or a clean cutting knife.
Wait for the cake base to cool down on a rack before spreading cream on it.
Put half of the chocolate cream in the middle then put the top bit on.
Spread the other half of chocolate cream on top and the sides evenly.
Sprinkle shredded almonds on top.
Leave it in the fridge at least for an hour before slicing it up.