Craving for bread on a gluten-free diet? What about some cheese filled bread that crumbles on the taste buds soothed with creamy butter?
As I most recently have a little time, I was looking on the web yesterday. On the lookout for fresh, intriguing ideas, inspiring meals that We have never tasted before, to treat my family with. Searching for a while unfortunately could not discover lots of interesting things. Right before I thought to give up on it, I came upon this yummy and easy treat simply by accident on Suncakemom. It seemed so delicious on its photos, it required quick actions.
It absolutely was easy to imagine just how it's created, how it tastes and how much boyfriend will want it. Actually, it is extremely simple to keep happy the guy when it comes to cakes. Anyhow, I went to the webpage and simply followed the step-by-step instuctions that had been combined with superb snap shots of the method. It really makes life less difficult. I can imagine that it is a bit of a inconvenience to take photographs down the middle of cooking in the kitchen as you may typically have sticky hands so I seriously appreciate the time and energy she devote to build this post and recipe conveniently followed.
That being said I am inspired to present my own, personal dishes in a similar fashion. Many thanks the idea.
I had been fine tuning the initial formula create it for the taste of my family. I must say that it was an awesome success. They loved the flavour, the overall look and loved having a delicacy such as this in the midst of a hectic workweek. They basically demanded lots more, many more. Hence the next occasion I am not going to commit the same miscalculation. I am gonna multiply the volume to make them happy.
Gluten Free bread invented by Suncakemom.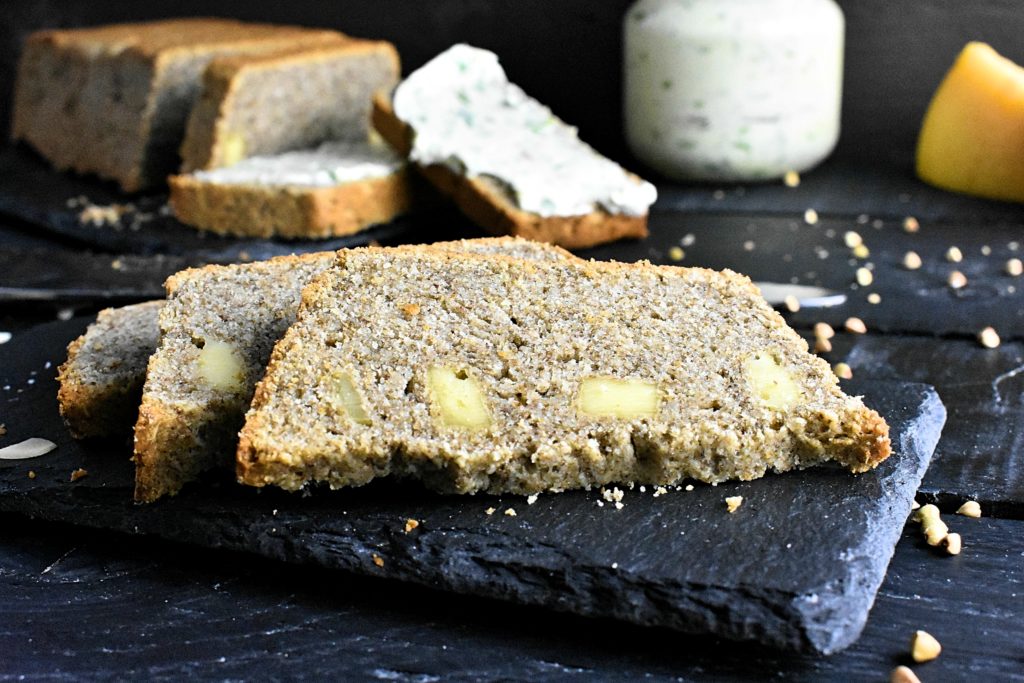 Grind almond and chia seed of necessary.
Pour buckwheat flour, almond flour and ground chia seed into a mixing bowl. Mix evenly.
Use room temperature butter. Slice the butter before putting into the mixing bowl. Put egg, yogurt, some salt and baking powder into the mixing bowl as well.
Blend all ingredients together until they incorporated well.
Get the loaf pan ready. In case of a non silicone tray parchment paper needs to be cut into it or some butter smeared all over the pan before pouring the batter into it. Preheat oven to 356ºF / 180ºC.
Pour batter into the loaf pan.
Optionally stick some slices of cheese into it.
Then close it up nicely.
Put loaf pan into the 356ºF / 180ºC preheated oven for half an hour.
Check in with a toothpick if it's baked properly. Insert toothpick into the bread if it comes out dry the bread is ready. If it comes out sticky put it back for another 10 minutes or so. (It always depends on the oven.)
Optionally we may cut a handful of cilantro leaves, whisk it with butter and a pinch of salt for spreading it on the freshly baked bread.