Looking for a different way to present the roast chicken? Stuff it with some mushrooms, herbs and spices! No boning or special skills required.
As I lately have a little time, I had been searching on the web the other day. Trying to find fresh, intriguing ideas, inspirational meals that We have never tested before, to surprise my loved ones with. Searching for quite some time but could not come across lots of interesting things. Right before I wanted to give up on it, I came across this delightful and simple dessert by chance. The dessert looked so delightful on its photo, that required urgent action.
It was not so difficult to imagine the way it's created, how it tastes and just how much my hubby might like it. Actually, it is very easy to please him in terms of cakes. Anyway, I got into the page: Suncakemom and followed the precise instuctions that have been accompanied by wonderful images of the task. It just makes life quite easy. I could suppose it is a bit of a effort to take photographs down the middle of cooking in the kitchen as you may usually have gross hands so I sincerely appreciate the time and energy she devote to make this blogpost .
Having said that I'm inspired to present my own recipes in the same way. Many thanks the idea.
I was tweaking the main recipe create it for the taste of my family. I've got to mention it absolutely was a terrific success. They loved the flavour, the thickness and loved getting a delicacy like this in the middle of a hectic workweek. They ultimately requested even more, many more. Thus the next time I am not going to make the same miscalculation. I am gonna double the quantity to get them pleased.
This post is based on Stuffed Chicken Thighs recipe from SunCakeMom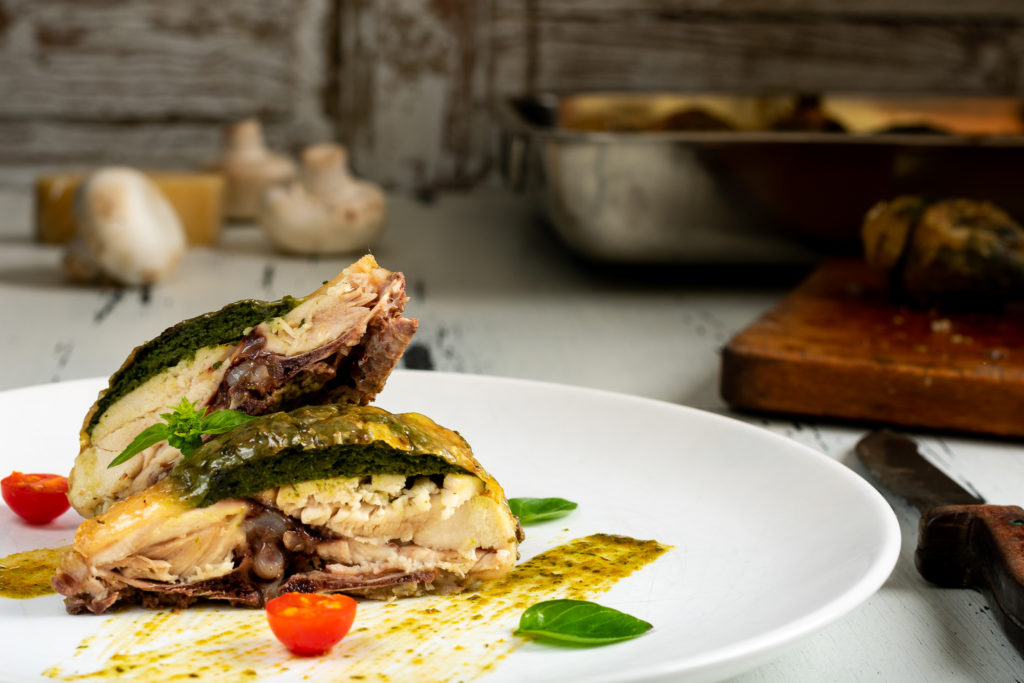 How to make Stuffed Chicken Thigh:
Place the mushrooms, salt, garlic, spinach and optional basil, tomato into a food blender.
Do it in batches if necessary and puree them.Alternatively use the old school method of chopping everything up with a sharp knife.
Add egg and the optional parmesan cheese and mix them together well.
Pull up the skin on one end of the chicken thighs.
Fill it up as much as possible.
Let the skin fall back to its place. Mind not to squeeze the filling out.The same can be done with drumsticks.
Place the filled chicken thighs onto a tray.
Cover the tray and put it into a 390°F / 200°C oven for 30 minutes.
Take the cover off then roast the chicken thighs until golden brown.
Serve it whole or halved.