Bored of the old flavors or just looking for an adventure in the wilderness? Untamed sour cream chocolate cake for our tastebuds to ride on!
As I recently have a little time, I was searching on the internet yesterday. Looking for fresh, exciting tips, inspiring meals that I have never tried before, to impress my family with. Hunting for a long time unfortunately could not discover lots of interesting things. Just before I thought to give up on it, I found this yummy and easy dessert by accident at Suncakemom. The dessert looked so scrumptious on its image, that called for immediate action.
It had been not difficult to imagine just how it's made, its taste and how much my hubby might enjoy it. Mind you, it is quite easy to keep happy the man in terms of desserts. Anyways, I visited the website and followed the simple instuctions that had been coupled with superb photos of the procedure. It really makes life much easier. I can imagine that it is a bit of a effort to take photos down the middle of cooking in the kitchen as you normally have gross hands and so i genuinely appreciate the effort and time she devote for making this blogpost and recipe conveniently followed.
Having said that I'm inspired presenting my own recipe similarly. Thanks for the idea.
I was tweaking the main recipe create it for the taste of my loved ones. I have to tell you it was a great outcome. They loved the flavor, the overall look and enjoyed having a treat like this in the midst of a lively workweek. They ultimately requested lots more, more and more. Thus the next time I am not going to make the same mistake. I am likely to multiply the volume to keep them pleased.
Thanks for SunCakeMom who made the Sour cream chocolate cake a reaility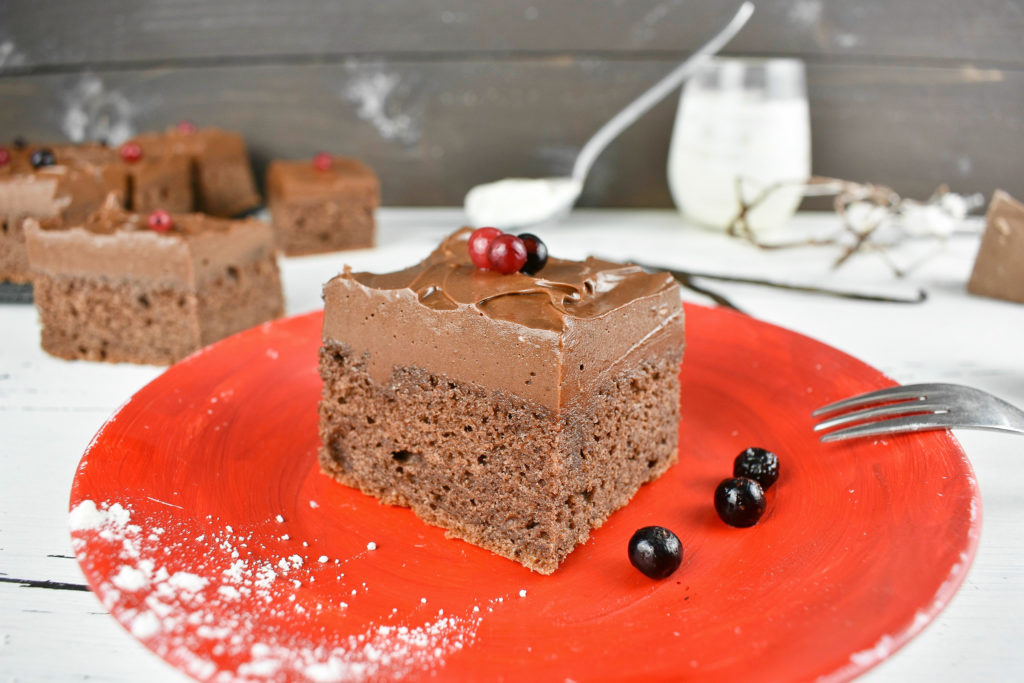 Pastry
Pour boiling water into the cup and mix it with the cocoa powder. Do not leave any lump in it then set it aside and wait until it cools down a bit. Mix flour with the baking powder.
Separate eggs.
Beat egg whites until hard peaks form.
Pour sour cream into the lukewarm cocoa mixture. Mix to get an even, creamy texture.
Slice butter and put it into a mixing bowl to whisk until it becomes almost white and creamy.
Put the yolks one by one into the creamy butter. Add the stevia or sweetener of choice and keep whisking it.
When all of the yolks are in the creamy butter, turn the mixer to low speed and add the cocoa sour cream mixture.
Add the flour bit by bit too.
Mix each addition just until incorporated completely.
Carefully fold in the beaten egg whites.
Once it gets a homogeneous texture pour batter into the prepared tray.
Place it into the 350°F / 180°C preheated oven for 40 minutes to bake.
When it's baked transfer the cake onto a wire rack and let it cool down completely.
Frosting
Melt chocolate.
Slice room temperature butter and put it into a mixing bowl. Whisk it for about 5-10 minutes to get a light yellow, soft and creamy texture.
Put in stevia or sweetener of choice and cocoa powder then keep mixing until incorporated with the butter cream evenly.
When chocolate is melted take the bowl off the steam and let it cool a bit before folding it into the butter cream. It's important not to pour hot chocolate into the butter mixture as it can spoil the whole frosting. (Hot chocolate would melt the butter.)
Beat heavy cream in a different bowl then mix into the frosting too.
Assembly
If the cake's top is not flat enough cut its top off.
The base has to be completely cool as it would make the frosting with the butter and cream runny which would be quite sad after all of this hard work.
Put some berries on top for decoration.