Looking for an easy and delicious dessert to pass the time or cheer up the dull weekdays? The traditional Italian Panna Cotta has it all, except tradition.
As I currently have a little time, I was browsing on the web yesterday. Attempting to find fresh, fascinating tips, inspiring dishes that I've never tested before, to surprise my loved ones with. Looking for a long time but could not discover too many interesting things. Right before I wanted to give up on it, I came upon this delightful and simple dessert by chance on Suncakemom. The dessert seemed so yummy on its pic, that called for prompt actions.
It had been not difficult to imagine just how it is created, its taste and how much my hubby will probably love it. Actually, it is extremely easy to keep happy him in terms of puddings. Yes, I am a lucky one. Or possibly he is.Anyway, I visited the webpage and simply followed the step-by-step instuctions that were coupled with great graphics of the task. It just makes life less difficult. I can imagine that it's a slight inconvenience to take pics down the middle of baking in the kitchen as you may will often have sticky hands therefore i seriously appreciate the commitment she devote for making this blogpost .
With that in mind I am empowered presenting my own, personal dishes in the same way. Many thanks for the concept.
I was tweaking the initial formula create it for the taste of my loved ones. I must mention it turned out an awesome success. They prized the flavour, the overall look and loved getting a delicacy such as this in the midst of a hectic week. They quite simply demanded lots more, many more. So the next time I'm not going to make the same mistake. I'm gonna multiply the volume .
This was made possible through SunCakeMom who provided the original Panna Cotta.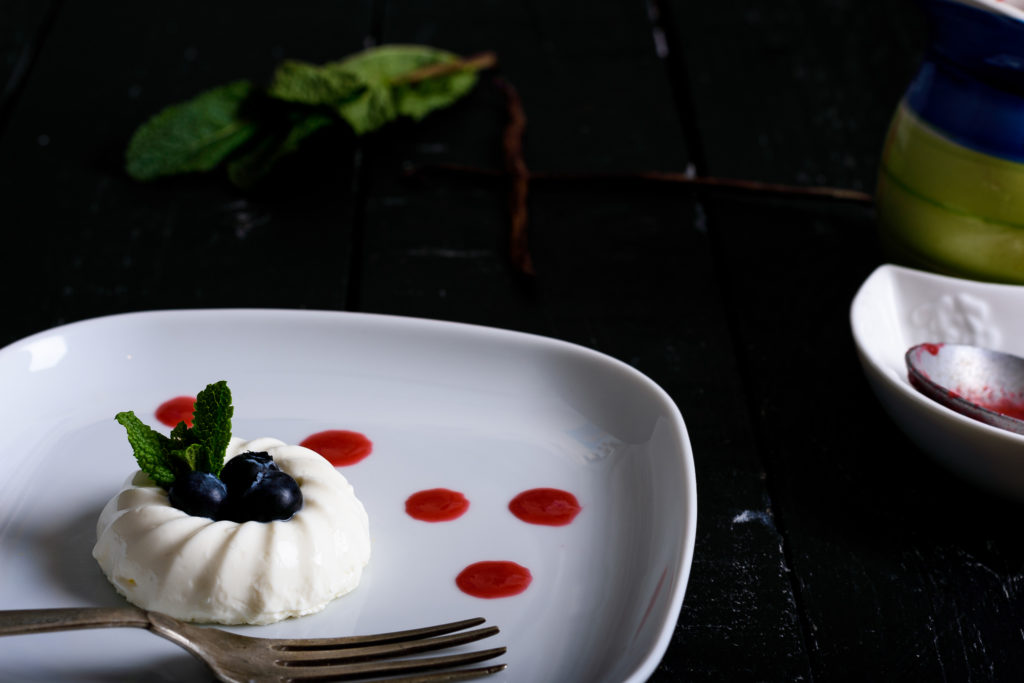 Warm milk or water in a small saucepan or a cup to dissolve the gelatin. Follow instruction on gelatin box indicating the right amount per ml. In our case it was pieces.
Pour heavy cream, sweetener and vanilla extract in a bigger saucepan to warm it up on medium heat.
When gelatin is completely dissolved in the milk pour it in the saucepan too.
Heat the mixture together whilst stirring constantly.
Pour the liquid in molds or ramekin dishes and put them in the fridge to cool down for about 3-4 hours.
Serve it with berry sauce and some fresh berries our choice is the homemade raspberry sauce with some blueberries and mint leaves.