Looking for an easy n' quick cake? Upside down cakes are as old as skillets over fire yet no one can get enough of them, especially with a bit of pineapple!
As I recently have some time, I was looking on the internet the other day. Looking to find fresh, intriguing tips, inspirational meals that We have never tasted before, to surprise my family with. Searching for a while but couldn't discover too many interesting things. Right before I wanted to give up on it, I ran across this delicious and easy dessert by luck at Suncakemom. The dessert seemed so delicious on its image, that called for instant action.
It absolutely was not difficult to imagine the way it is made, its taste and how much my husband is going to love it. Actually, it is extremely easy to please him in terms of desserts. Yes, I'm a blessed one. Or possibly he is.Anyway, I went to the webpage and used the detailed instuctions which were combined with great photographs of the process. It really makes life less difficult. I can suppose it is a slight effort to shoot photos in the midst of baking in the kitchen because you will often have sticky hands and so i pretty appreciate the time and effort she devote to make this blogpost and recipe conveniently implemented.
With that said I am encouraged to present my own, personal recipes in a similar way. Appreciate your the thought.
I was tweaking the main mixture to make it for the taste of my loved ones. I have to mention it had been an incredible success. They enjoyed the flavor, the thickness and loved getting a treat like this during a hectic workweek. They ultimately demanded more, many more. Hence the next occasion I'm not going to make the same mistake. I'm likely to double the quantity to get them pleased.
There are more upside down cake pineapple recipes at SunCakeMom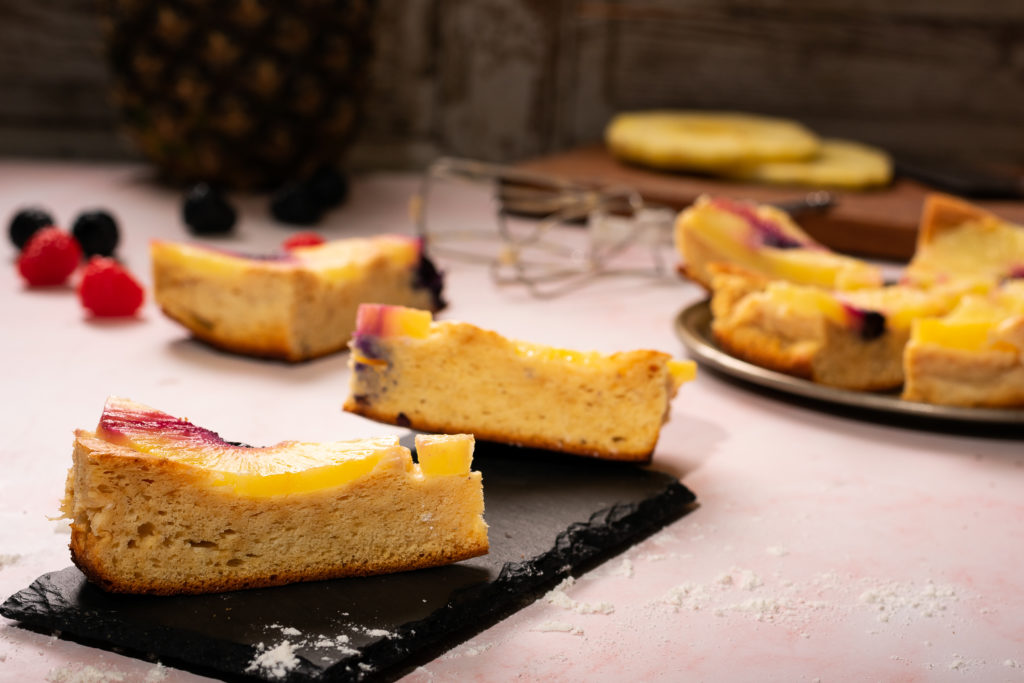 Preheat oven to 350°F / 180°C.
Prepare cake tin with parchment paper.
Put pineapple slices at the bottom of the cake tin.
Separate eggs and put egg whites in a mixing bowl. Keep yolks for later.
Measure flour and mix it with the baking powder in a different bowl.
Beat egg whites with electric mixer until hard peaks form.
Add egg yolks to it one by one and the vanilla extract whilst beating the egg whites.
Mix in the flour too.
Pour batter in the cake tin on top of the pineapple slices.
Put it in the preheated oven for 45-50 minutes or until toothpick comes out clean.
Flip it on a cooling rack to cool down completely before slicing it up.