Looking for a nut roll recipe that will bring back childhood memories or implant new ones? This one is just like one and not only for Christmas!
As I lately have some time, I had been browsing on the internet the other day. Trying to find fresh, intriguing ideas, inspirational recipes that We have never tried before, to surprise my loved ones with. Searching for a while yet couldn't find lots of interesting things. Just before I wanted to give up on it, I came upon this delicious and easy treat simply by chance. The dessert seemed so mouth-watering on its pic, it called for prompt actions.
It had been simple enough to imagine the way it is created, its taste and how much my hubby might want it. Actually, it is quite simple to please the guy in terms of puddings. Anyway, I got into the site: Suncakemom and used the step-by-step instuctions that were coupled with superb images of the operation. It just makes life much easier. I could imagine that it's a bit of a inconvenience to shoot pics in the middle of baking in the kitchen as you may usually have gross hands therefore i seriously appreciate the commitment she put in for making this post .
With that said I'm inspired presenting my own, personal recipe in a similar way. Thanks for the concept.
I was tweaking the main mixture create it for the taste of my family. I've got to say it turned out a great success. They loved the flavor, the overall look and enjoyed getting a treat like this in the midst of a stressful workweek. They ultimately demanded more, a lot more. Hence the next occasion I'm not going to make the same miscalculation. I am likely to multiply the volume .
If you liked this Recipe For Nut Roll you may find more like this at SunCakeMom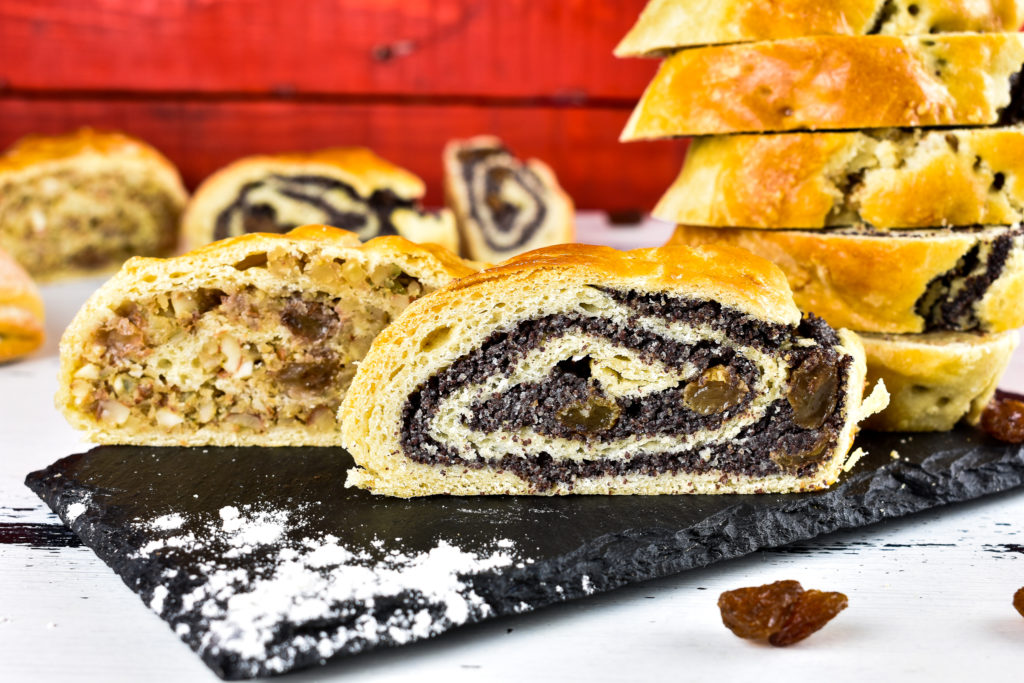 Solve the fresh yeast in a bit of lukewarm milk. It's a traditional step to ensure the yeast is working. If we trust our yeast, it can be sprinkled directly onto the flour but adding milk or water to the flour is necessary too.
Mix flour with the butter and sweetener.
Add the yeast and milk if haven't been added before.
Work in the egg yolks, rum, sour cream, lemon zest and salt too and dough until getting an even texture.
Put dough into a big bowl with a lid on top and let it rest. Ideally overnight in the fridge but if short on time just let it raise for an hour on room temperature or in a 100°F / 40°C oven.
Walnut filling:
Mix all the ingredients together and let it sit in the fridge until the dough is ready.
Poppy seed filling:
Mix all the ingredients together in a saucepan.
On the stove top bring the milk to boil in low temperature while stirring continuously.
Take it off the heat and cool it down otherwise it will ruin the dough. Place it next to the walnut filling until waiting for the dough to raise.
Assembly:
Dust the work surface with flour then divide the dough into 4 parts.
Butter the baking tray or cover it with parchment paper.
Work with one piece at a time roll out the dough into a 1/8″ / 3mm high rectangular shape the length of our baking tray.
Choose the first filling and fill half of it along one of the long side of the dough. Mind to leave an empty stripe on one side otherwise the dough can't be closed properly.
Roll the dough up.
Place them into the buttered or parchment papered baking tray.
Repeat until the filling and dough runs out which should be after 3 more nut rolls.
Brush the top with eggwash and punch holes alongside with a fork.
Place them into a 350°F / 180°C preheated oven for about an hour. (330°F / 165°C for convection ovens)
After about an hour it should come out with a golden brown top and tantalizing smell. Don't resist it!