Making no bake chocolate oat bars is almost as easy as making porridge with chocolate chips. It's quick, easy, healthy and above all enjoyable anywhere!
As I recently have a little time, I was surfing on the web yesterday. Attempting to find new, stirring ideas, inspiring recipes that I have never used before, to impress my family with. Looking for a long time but could not come across too many interesting stuff. Just before I thought to give up on it, I came across this tempting and simple dessert by chance. It looked so fabulous on its photos, that called for prompt action.
It absolutely was not difficult to imagine how it is made, its taste and how much my hubby might want it. Actually, it is very easy to impress the man in terms of cakes. Yes, I'm a blessed one. Or perhaps he is.Anyhow, I visited the page: Suncakemom and used the step by step instuctions that have been combined with impressive shots of the task. It just makes life quite easy. I can suppose it's a slight effort to shoot snap shots in the middle of baking in the kitchen as you ordinarily have sticky hands and so i really appreciate the hard work she placed in to build this post and recipe easily implemented.
That being said I'm inspired presenting my own recipes in the same way. Appreciate your the idea.
I was tweaking the main formula to make it for the taste of my family. I've got to mention it had been an incredible outcome. They enjoyed the flavour, the structure and enjoyed getting a delicacy like this in the middle of a busy week. They ultimately asked for more, many more. Thus next time I'm not going to commit the same miscalculation. I'm going to multiply the amount .
This post is based on No Bake Chocolate Oat Bars from SunCakeMom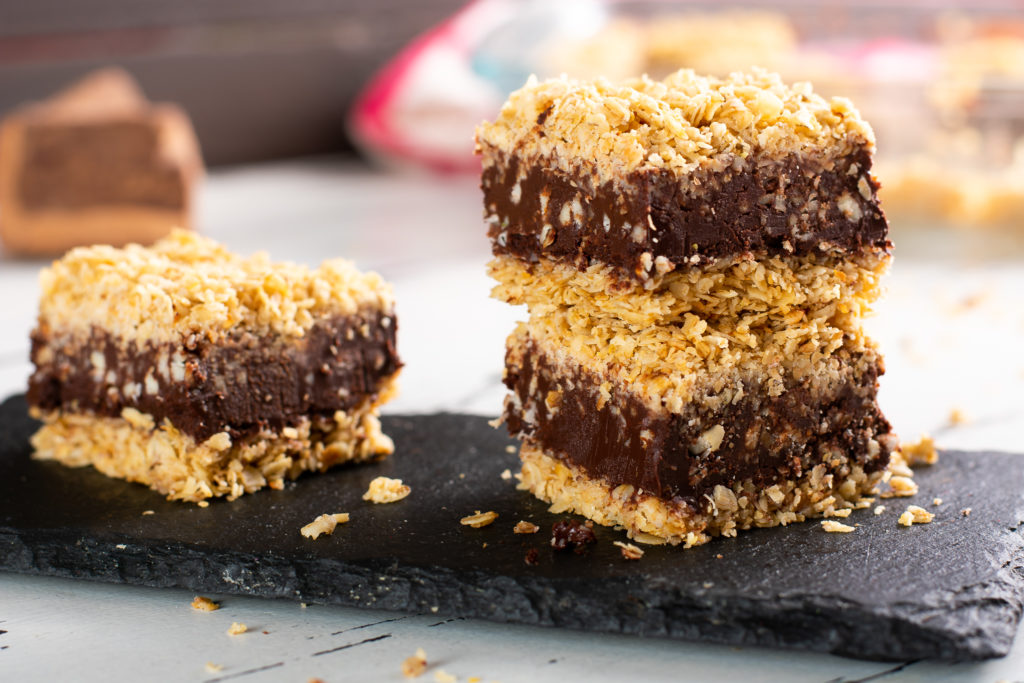 Crust:
On low heat to melt butter in a frying pan.
When butter is melted, pour round oat, vanilla essence and honey into the frying pan as well.
Fry it for about 5 minutes or until the oat gets a golden brownish color.
Put half of the butter fried oat into the tray evenly and press it down as much as possible.
Filling:
Melt chocolate, butter, cocoa powder and honey together.
Pour half of the filling on top of the oat layer.
Sprinkle nuts evenly on chocolate filling.
Pour other half of the chocolate filling on top.
Wait until chocolate cools down a bit and evenly pour the other half of the oat on top.
Spread it to cover the whole chocolate filling and press gently the oat cover down to stick in the half solid chocolate filling.
Put the tray in the fridge for an hour or until its consistency becomes solid.
Cut it into bars and have it for breakfast or snack.