Quick and easy vegetable stew made out of onion, pepper, paprika and tomato. It's an excellent company for meat dishes but it can stand on its own too.
As I currently have some time, I was searching on the internet the other day. Trying to find new, interesting tips, inspirational dishes that I've never tested before, to surprise my loved ones with. Hunting for a while yet could not come across lots of interesting things. Right before I wanted to give up on it, I found this scrumptious and simple dessert simply by accident on Suncakemom. It seemed so tempting
on its image, that required rapid actions.
It absolutely was simple enough to imagine how it's made, its taste and just how much my hubby might love it. Mind you, it is rather simple to impress the guy when it comes to desserts. Anyway, I visited the webpage and used the comprehensive instuctions which were coupled with superb photographs of the method. It really makes life less difficult. I can imagine that it is a bit of a effort to shoot photographs down the middle of cooking in the kitchen as you may will often have gross hands therefore i really appreciate the commitment she placed in to make this post and recipe easily followed.
With that said I'm inspired to present my personal dishes in the same way. Appreciate your the concept.
I had been fine tuning the main formula to make it for the taste of my family. I must say it absolutely was an incredible outcome. They prized the flavour, the overall look and loved having a delicacy like this in the middle of a busy workweek. They basically demanded even more, more and more. So the next occasion I am not going to commit the same miscalculation. I'm gonna twin the volume to get them happy.
For more Lecho Recipe check out SunCakeMom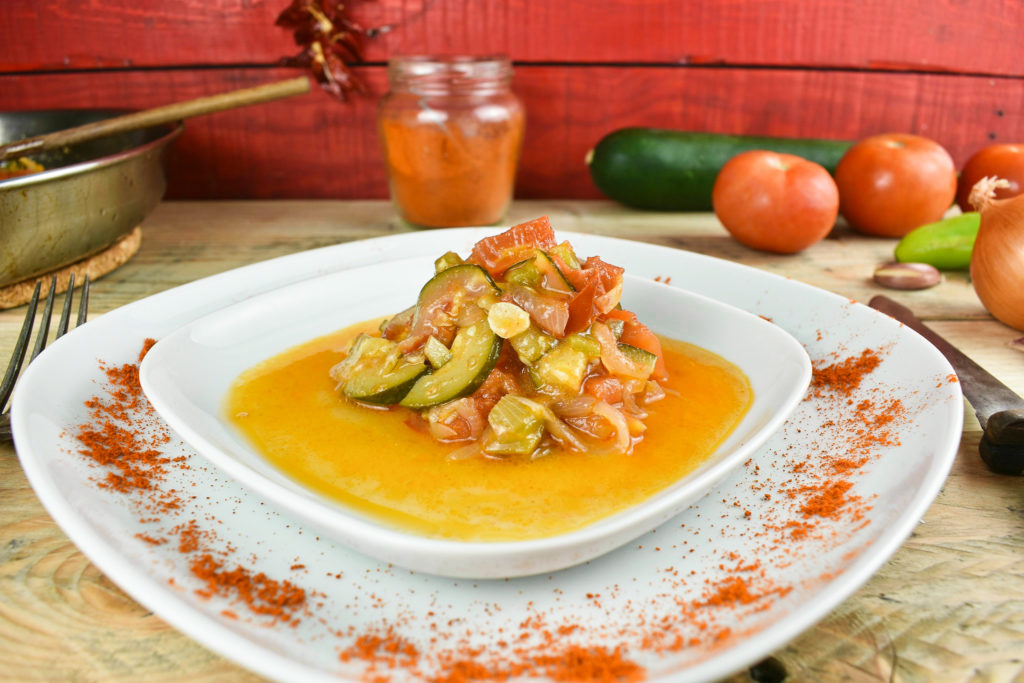 Heat the oil in a large pan then add onion and sprinkle salt on top.Lecho-recipe-process
Saute it until it gets a translucent / glassy look. It should be done in 3-5 minutes on high heat while continuously stirring.
Add pepper and mix it well with the onion. Keep sauteing while stirring every now and again for another 3-5 minutes until the onion starts to get brown.
Add garlic and optionally zucchini or egg plant. Mix it well with the onion and pepper then keep sauteing for 2-3 minutes until garlic gives out its scent.
Sprinkle the paprika on top then add chopped tomatoes or tomato sauce.
Add some (about ½ cup) water to it, just to make sure the paprika won't burn down. If tomato sauce is used then this step can be skipped entirely.
Mix everything together well then put the lid on and cook it for 5 – 10 minutes until all the vegetables are tender but still firm enough.