Making keto granola is as easy as crushing some nuts we have and tossing them into the oven for a couple of minutes with a dash of love and care.
As I recently have some time, I was browsing on the internet last week. On the lookout for new, intriguing thoughts, inspirational recipes that I've never used before, to delight my family with. Searching for a long time but couldn't discover any interesting stuff. Just before I wanted to give up on it, I found this tempting and simple dessert by chance. It looked so tempting
on its photos, that required urgent actions.
It absolutely was not difficult to imagine just how it is created, how it tastes and just how much my hubby is going to love it. Actually, it is rather simple to delight the guy in terms of treats. Yes, I'm a lucky one. Or maybe he is.Anyways, I went to the blog: Suncakemom and then used the simple instuctions that have been coupled with impressive photographs of the task. It really makes life faster and easier. I could suppose it is a slight effort to shoot snap shots in the middle of cooking in the kitchen as you may will often have gross hands so I highly appreciate the hard work she put in to make this blogpost and recipe conveniently followed.
Having said that I'm empowered presenting my very own recipes in the same way. Appreciate your the idea.
I had been tweaking the original mixture to make it for the taste of my family. Need to mention it had been an awesome success. They prized the flavour, the structure and loved having a sweet like this in the midst of a busy workweek. They quite simply wanted even more, a lot more. So the next occasion I am not going to commit the same mistake. I am going to multiply the amount .
Thanks to SunCakeMom for the inviting keto granola recipe recipe.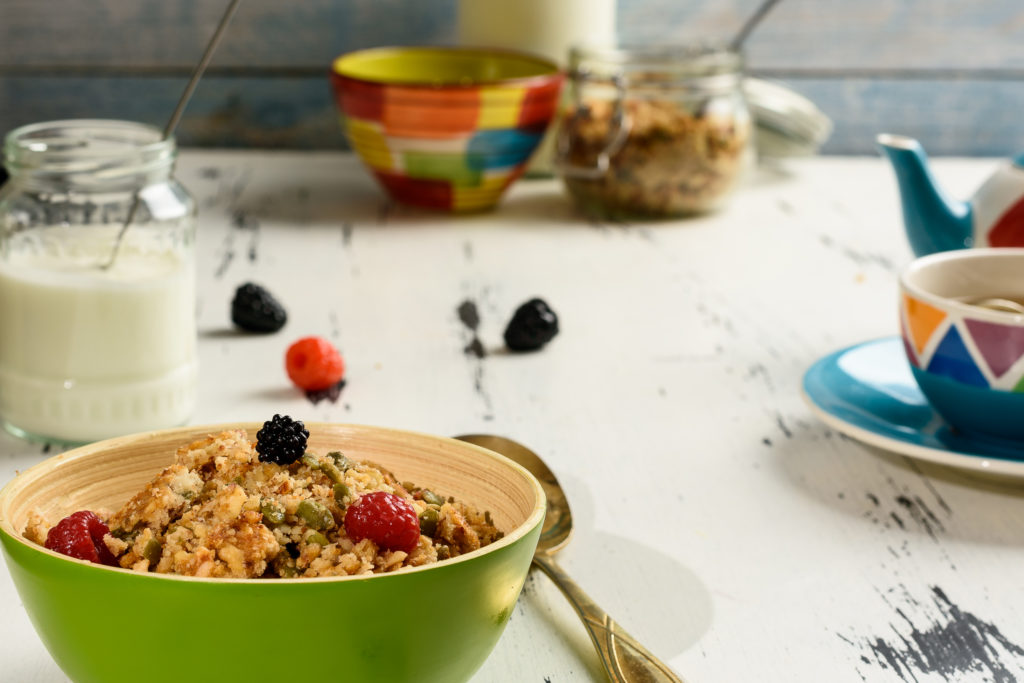 Preheat oven to 300°F / 150°C.
Prepare tray with a parchment paper.
Put nut and seed mixture into a blender and turn it on until we get some smaller and bigger pieces of nuts.
Put butter into a small bowl and warm it up a bit so it will be easier to work with.
Pour nuts and seed pieces, the melted butter, agave syrup, vanilla extract into a medium size mixing bowl and combine them well with a spatula.
Separate egg whites from yolks and put them into a mixing bowl to beat them until frothy.
Mix nuts and egg whites together.
Place the mixture into the baking tray and press it evenly onto the parchment paper.
Put it into the preheated oven for 15-20 minutes or until the top is golden brown.
Take it out and flip the nuts to the other side.
Put tray back to the oven for another 5 minutes so the other side of the nuts is roasted as well.
Take it out when it's baked and leave it to cool down before breaking it up to smaller bits.
Serve it for breakfast or with some parfaits.
Store it in a cool, dry place for about 2 weeks or gets moldy.