Looking for something for Lent or just a sweet bread to pass the day? Hot cross bun will cover both and keep the house safe!
As I recently have some time, I was searching on the web the other day. In need of fresh, intriguing tips, inspirational dishes that We have never tried before, to amaze my loved ones with. Looking for quite some time but could not discover lots of interesting stuff. Right before I thought to give up on it, I ran across this delightful and simple treat by chance. The dessert seemed so tempting
on its photo, that called for prompt action.
It absolutely was simple enough to imagine how it is made, how it tastes and just how much my husband will probably want it. Mind you, it is rather easy to delight him in terms of puddings. Anyways, I visited the webpage: Suncakemom and simply followed the simple instuctions that had been combined with nice images of the method. It really makes life much easier. I can suppose it's a bit of a effort to shoot snap shots down the middle of baking in the kitchen as you may will often have sticky hands so I sincerely appreciate the time and effort she devote to make this blogpost and recipe easily followed.
With that in mind I'm encouraged to present my personal recipes in a similar fashion. Appreciate your the idea.
I was tweaking the original recipe create it for the taste of my family. I have to say it absolutely was an incredible success. They prized the flavour, the structure and loved getting a treat like this in the midst of a busy workweek. They quite simply requested more, more and more. Thus the next occasion I am not going to commit the same mistake. I am going to multiply the quantity .
This recipe was made possible through SunCakeMom who provided the original hot cross bun recipe recipe.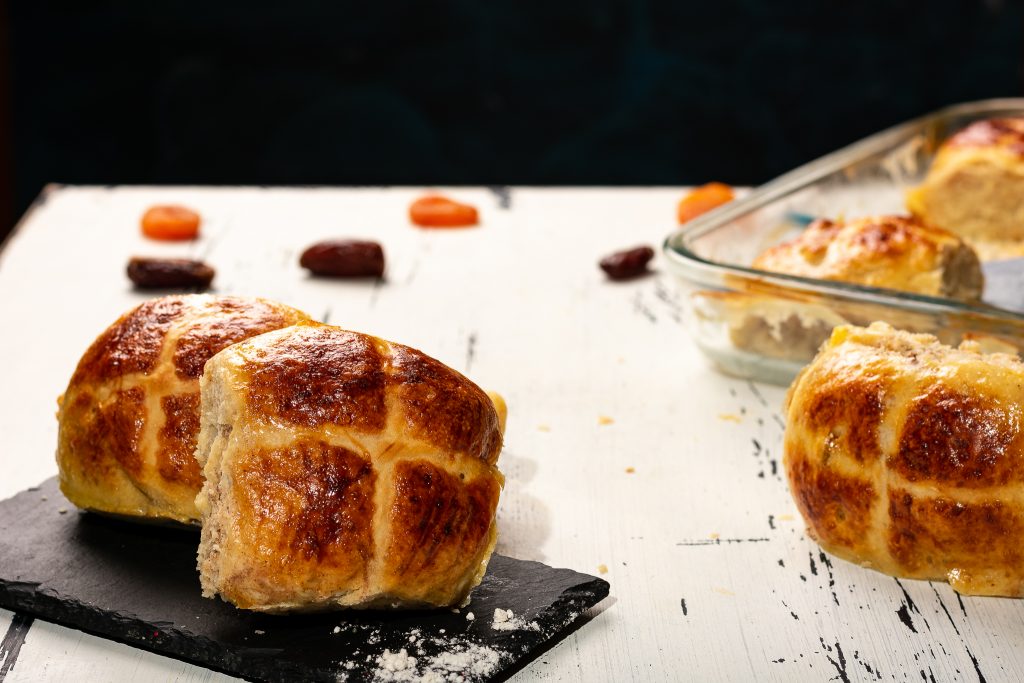 Warm milk up and put the yeast in to dissolve.
Put flour, butter, egg and agave syrup in a big mixing bowl.
Pour in the yeasty milk as well.
Knead ingredients until dough comes together and it separates from the bowl. Mixer and dough hook can be used for this step.
Put the dough in a lightly oiled bowl. Cover and leave it to rise in a warm place for 45 minutes or until doubled in size.
Peel and chop apple.
Take dough out of the bowl on a lightly floured surface and flatten it a bit by hands, spread raisins, orange peel, orange zest, chopped apple and cinnamon on top evenly.
Fold filling in the dough and put it back in the bowl and cover it.
Leave to rise for another 45 minutes or until doubled in size.
Divide the dough into 16 equal pieces.
Roll them into smooth balls.
Put balls into the baking tray leaving them some space to expand. Don't put them too far away from each other though.
Cover it and leave for another 20 minutes to rise.
Preheat the oven to 430°F / 220°C.
Put a deep tray with water at the bottom of the oven so buns will bake in steamy hot air.
After 20 minutes give buns an egg wash.
Mix the flour with the water to make the paste for the cross.
Put the paste into a piping bag to decorate the buns with the cross.
Brush over the top of buns before putting the tray in the preheated oven.
Bake it for 20 minutes or until the top is golden brown.