From the shadows of the Italian kitchen into the spotlight of our heart. Garlic knots aren't just a piece of leftover dough anymore. Tasty, garlicky, Yummy!
As I lately have some time, I was searching on the web a few days ago. In need of new, fascinating ideas, inspirational dishes that I've never used before, to amaze my family with. Hunting for quite some time but couldn't find too many interesting things. Just before I thought to give up on it, I ran across this delicious and simple dessert simply by chance over Suncakemom. It seemed so mouth-watering on its image, it called for rapid action.
It absolutely was simple enough to imagine just how it is made, its taste and just how much my husband might love it. Actually, it is rather easy to please the guy when it comes to cakes. Yes, I'm a blessed one. Or maybe he is.Anyway, I went to the blog and simply followed the simple instuctions which were combined with nice photographs of the operation. It just makes life much easier. I can imagine that it is a bit of a hassle to take photographs down the middle of cooking in the kitchen as you typically have gross hands so that i highly appreciate the commitment she put in to make this post and recipe easily followed.
With that in mind I'm encouraged presenting my personal formulas similarly. Thanks for the idea.
I was fine tuning the initial mixture create it for the taste of my loved ones. I must say it was a great success. They enjoyed the flavor, the thickness and loved getting a treat such as this during a busy workweek. They basically wanted more, more and more. Thus the next occasion I'm not going to commit the same miscalculation. I'm likely to multiply the quantity to make them pleased.
Garlic Knot was first invented by SunCakeMom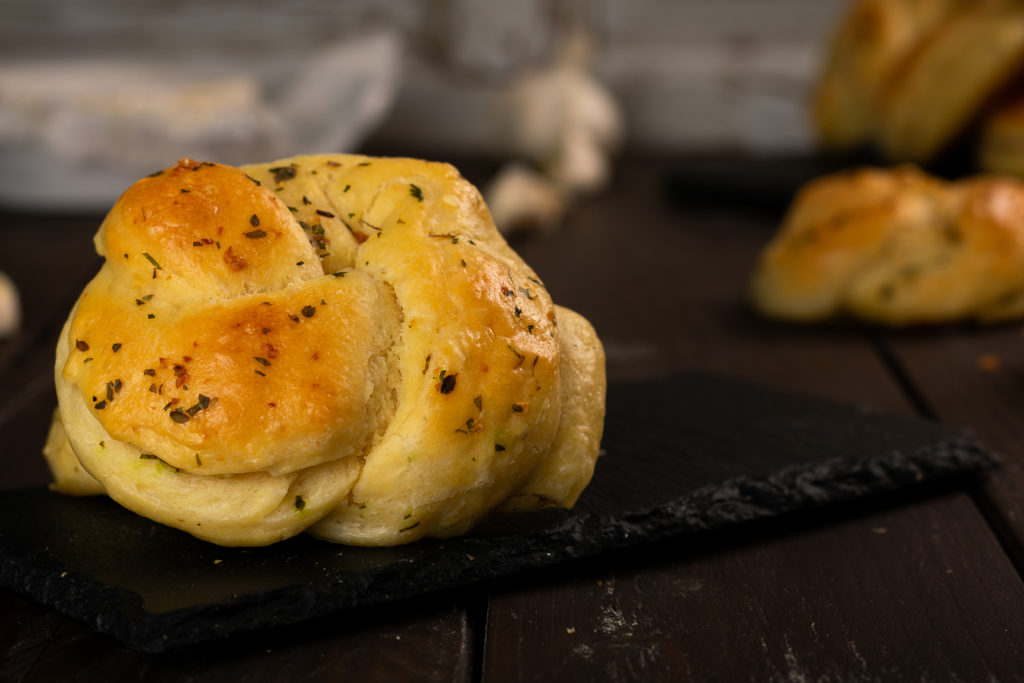 Dough:
Dissolve fresh yeast in a half cup of lukewarm (not hot!) milk. Set it aside whilst preparing the other ingredients.
Get a big bowl and put flour, sliced room temperature butter, egg and the lukewarm water in it.
Pour the dissolved yeast into the big bowl on top of the other ingredients.
Knead the mixture well until it's even and there's no flour left on the edge of the bowl.
Cover the bowl and leave it in a warm place for about an hour to rise.
Filling:
Crush or dice up the garlic.
Mix the garlic with the room temperature butter and the rest of the filling ingredients in a small bowl.
Cover:
Prepare an egg wash by beating up an egg with a crushed garlic, basil, oregano and salt.
Assembly:
After an hour waiting take dough out of the bowl onto a well-floured work surface.
Roll it into a square. Flouring underneath the dough is important as this coating will prevent it to stick down.
Spread the butter with the herbs onto half of the dough.
Fold it in half so the butter creates a layer between the dough.
Then fold it again horizontally.
Leave it in a warm place under a kitchen towel for another 20 minutes.
Preheat oven to 350°F / 180°C.
After about 20 minutes when the dough have risen somewhat depending on the temperature.
Put it on a well-floured work surface to roll it in an approximately 10″ x 10″ / 30cm x 30cm square.
Cut about 1″ / 2cm wide stripes. Before cutting up the whole dough experiment with sizes. Find the length and with that is comfortable to make knots with.
Make knots out of the stripe and place roll into the the baking tray.
Give an egg wash to each roll before putting tray into the preheated oven.
If making knots gets boring just twist the stripes and make garlic twists.
Bake it for 20-25 minutes or until top is golden brown.
Eat them warm or cold with some melted cheese for more pleasure.