Looking for an easy and delicious cookie? Try these low carb Florentines that will please anyone who ever liked chocolate and orange together!
As I lately have a little time, I had been browsing on the web a few days ago. Looking to find new, stirring thoughts, inspiring dishes that I have never tested before, to astonish my loved ones with. Hunting for quite some time unfortunately could not discover any interesting stuff. Right before I thought to give up on it, I came across this delightful and easy treat simply by chance. The dessert looked so tempting
on its image, that required fast action.
It had been easy to imagine the way it is created, how it tastes and just how much boyfriend will probably love it. Actually, it is quite simple to keep happy the man in terms of desserts. Yes, I am a lucky one. Or perhaps he is.Anyways, I got into the page: Suncakemom and used the simple instuctions which were accompanied by superb pictures of the method. It just makes life rather easy. I can imagine that it's a bit of a inconvenience to take photographs in the midst of baking in the kitchen as you ordinarily have sticky hands thus i sincerely appreciate the commitment she placed in to build this post and recipe easily implemented.
With that said I'm empowered presenting my own recipes in the same way. Many thanks the concept.
I had been fine tuning the main mixture to make it for the taste of my family. I have to tell you it was a terrific success. They enjoyed the taste, the structure and loved getting a treat like this in the middle of a stressful week. They basically wanted more, many more. Thus the next occasion I am not going to commit the same miscalculation. I'm going to double the quantity .
This Florentines Cookies inspired by SunCakeMom.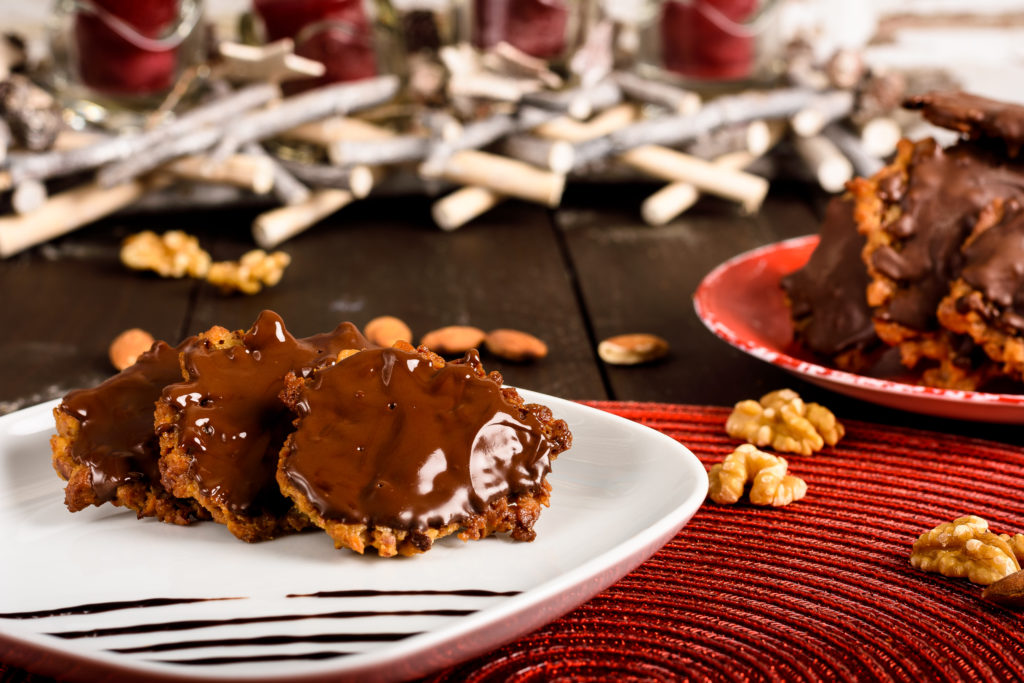 Grind half of the almonds finely and the other half coarsely.
Put butter and cream in a saucepan to heat it up with the vanilla extract and sweetener.
Pour almond and orange zest and mix them with the other ingredients in the saucepan on low heat.
Preheat the oven to 350°F / 180°C.
Prepare tray with baking paper.
With a spoon put walnut size balls on the tray.
Flatten them with a fork.
Put the tray with the cookies in the preheated oven for about 10 – 15 minutes (depending on the oven).
Take them out as soon as it starts to get a golden brown color.
Place cookies on a cooling rack to cool down with the help of a sharp flat tool. Right now the cookies are a bit brittle so mind them with care. They are supposed to hold together better over time and under some chocolate.
Melt chocolate.
Pour chocolate on top of the cookies.
Keep them in a cool place until chocolate becomes solid again.