Cinnamon stuffed bread that's nothing to do with monkey but it's still called one. Sweet bread that never disappoints specially not when fresh from the oven
As I currently have some time, I had been looking on the web the other day. Looking for new, stirring ideas, inspirational meals that We have never tasted before, to treat my loved ones with. Searching for a long time but couldn't find too many interesting things. Just before I wanted to give up on it, I came upon this scrumptious and simple treat by chance on Suncakemom. It looked so scrumptious on its photo, it required prompt actions.
It absolutely was not difficult to imagine the way it is created, how it tastes and how much my husband might like it. Mind you, it is quite simple to keep happy the man in terms of puddings. Yes, I'm a blessed one. Or perhaps he is.Anyhow, I got into the webpage and then followed the step-by-step instuctions that had been coupled with impressive photos of the task. It really makes life much easier. I can suppose it's a bit of a hassle to shoot photographs in the midst of baking in the kitchen as you will often have sticky hands and so i sincerely appreciate the commitment she put in to make this post and recipe easily implemented.
With that said I'm empowered presenting my personal recipes similarly. Many thanks for the idea.
I had been tweaking the main recipe to make it for the taste of my family. I have to tell you that it was a terrific success. They enjoyed the flavour, the thickness and enjoyed getting a delicacy such as this in the middle of a lively workweek. They basically requested even more, more and more. So next time I'm not going to make the same mistake. I am going to multiply the quantity .
You can find the original cinnamon roll monkey bread recipe and more at SunCakeMom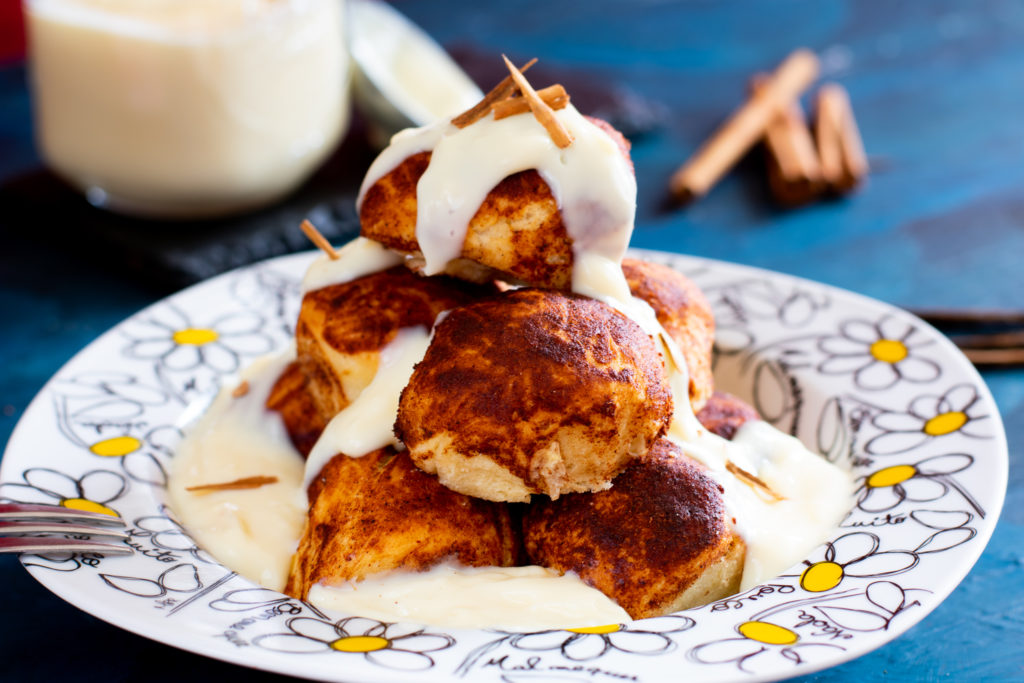 Dough:
Put yeast into lukewarm milk to dissolve.
Measure flour, butter and put them in a mixing bowl together with eggs, honey, the yeasty milk.
Dough it together until getting and even dough.
Cover the bowl and leave it in a warm place for an hour to raise. Meanwhile make the cinnamon covering.
Covering:
Put melted butter, ground cinnamon and honey in a small bowl to mix them together.
Assembly:
Preheat oven to 350°F / 180°C.
When the dough doubles in about an hour, take it out of the bowl to put it on a well floured surface.
Roll it out to about ⅞" / 2cm height.
Cut little balls with a 1½" / 4cm cookie cutter.
Roll the first layer of balls onto the cinnamon-butter cover.
Place them into the baking form.
Place the next layer of balls on top without dipping them and now brush them with the same cinnamon covering. The reason we don't dip the higher layers into the cinnamon cover is that doing so picks up too much of the butter cover that slowly drips down into the bottom of the baking form creating a buttery pool without much use.
Put it into the preheated oven for about 30 to 40 minutes to bake.
Let it cool a couple of minutes then take it out to a cooling rack for a bit more.
For fancy serving place some balls onto a plate and pour vanilla custard over it.