Looking to revive long forgotten memories through the smell of the kitchen's oven? When this chimney cake comes out it won't be just a sweet memory anymore!
As I most recently have a little time, I was browsing on the internet a few days ago. Looking for fresh, intriguing tips, inspiring meals that I've never used before, to delight my loved ones with. Hunting for quite some time unfortunately could not come across any interesting things. Just before I thought to give up on it, I discovered this delightful and easy dessert simply by chance. It seemed so delicious on its image, it called for rapid actions.
It was easy to imagine how it's created, its taste and just how much my husband is going to want it. Mind you, it is extremely simple to keep happy him in terms of desserts. Anyways, I visited the blog: Suncakemom and simply followed the simple instuctions which were accompanied by nice images of the operation. It just makes life quite easy. I can suppose it is a bit of a hassle to take photos in the midst of cooking in the kitchen as you ordinarily have sticky hands thus i sincerely appreciate the time and energy she put in for making this post and recipe conveniently followed.
With that in mind I'm encouraged to present my own recipes in a similar way. Many thanks the concept.
I had been fine tuning the initial recipe to make it for the taste of my family. I have to tell you it turned out an incredible outcome. They loved the taste, the overall look and loved having a sweet like this in the middle of a lively workweek. They ultimately demanded lots more, more and more. Hence the next time I am not going to commit the same miscalculation. I'm gonna twin the amount .
You can find the original chimney Cake recipe and more at SunCakeMom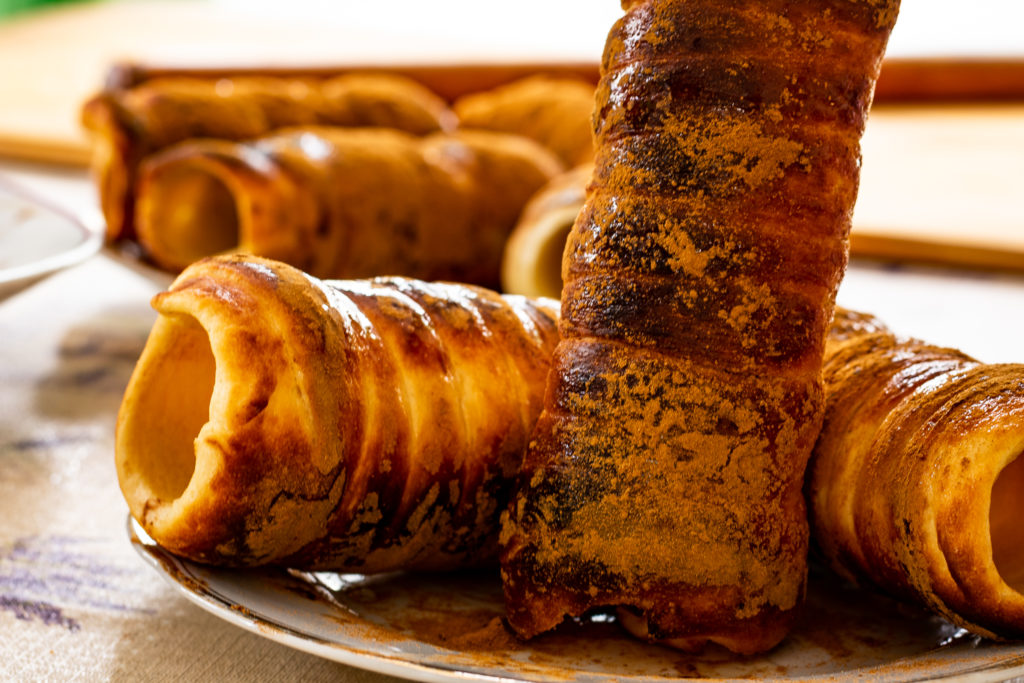 Dissolve fresh yeast in lukewarm milk.
In a medium size mixing bowl add flour, butter, vanilla extract, honey and the eggs.
Pour yeasty milk on top of the flour mixture and start to work everything together.
Knead it until it's even and the dough is off the side of the mixing bowl.
Cover the bowl and leave it in a warm place for an hour to raise.
While we are waiting for the dough to double, get the chimney cake sticks or cans ready by spreading some oil or melted butter on them. This is supposed to prevent the dough to stick down.
After an hour, take the dough out of the bowl onto a floured surface.
Roll the dough out to about 1/2″ / 1.5cm height.
Cut the rolled out dough up into 1/2″ / 1.5cm stripes.
Start rolling up the stripes onto the sticks or cans.
Rolling up the dough stripes needs a bit of practice. If we happen to mix together a softer dough, handling it will be a bit challenging which result less than optimal spirals.Just roll it gently on a lightly floured surface to even the surface up.
Get the first batch ready for the oven.
Brush them with honey or sweetener of choice and place them into a 350­°F / 180°C oven for about 15 – 20 minutes. Using sticks require the chimney cake to be rotated in the oven manually while we don't have to bother with such things if we use cans that stand upright.
While the cakes are in the oven, prepare a tray with the desired covering.
When the cakes get their golden brown color, take them out and immediately roll them into the prepared covering.
Recipe Notes
This recipe is a refined sugar free Chimney cake recipe. It uses honey as a natural sweetener but it can be substituted with any sweetener of choice.