Looking for a side dish or something for the breakfast table? Cauliflower hash browns are a light choice for both and beyond! Better than potatoes!
As I most recently have some time, I had been searching on the web the other day. In need of fresh, interesting tips, inspiring meals that We have never tried before, to impress my loved ones with. Searching for a long time yet couldn't come across lots of interesting things. Right before I thought to give up on it, I stumbled on this scrumptious and easy treat by chance. The dessert seemed so scrumptious on its photo, it required fast actions.
It absolutely was not difficult to imagine how it is made, how it tastes and how much boyfriend will enjoy it. Mind you, it is extremely easy to please the man in terms of treats. Anyways, I went to the site: Suncakemom and then followed the comprehensive instuctions that were coupled with great shots of the operation. It really makes life faster and easier. I could imagine that it's a slight hassle to shoot pics in the middle of baking in the kitchen because you normally have sticky hands and so i sincerely appreciate the time and effort she placed in to build this blogpost .
With that in mind I am empowered to present my very own dishes in a similar fashion. Appreciate your the thought.
I had been fine tuning the initial recipe create it for the taste of my loved ones. Need to tell you it had been an incredible outcome. They loved the flavour, the consistency and loved having a treat such as this during a lively week. They ultimately requested lots more, more and more. So the next occasion I am not going to commit the same miscalculation. I'm going to multiply the volume .
This recipe is based on the keto hash brown recipe from SunCakeMom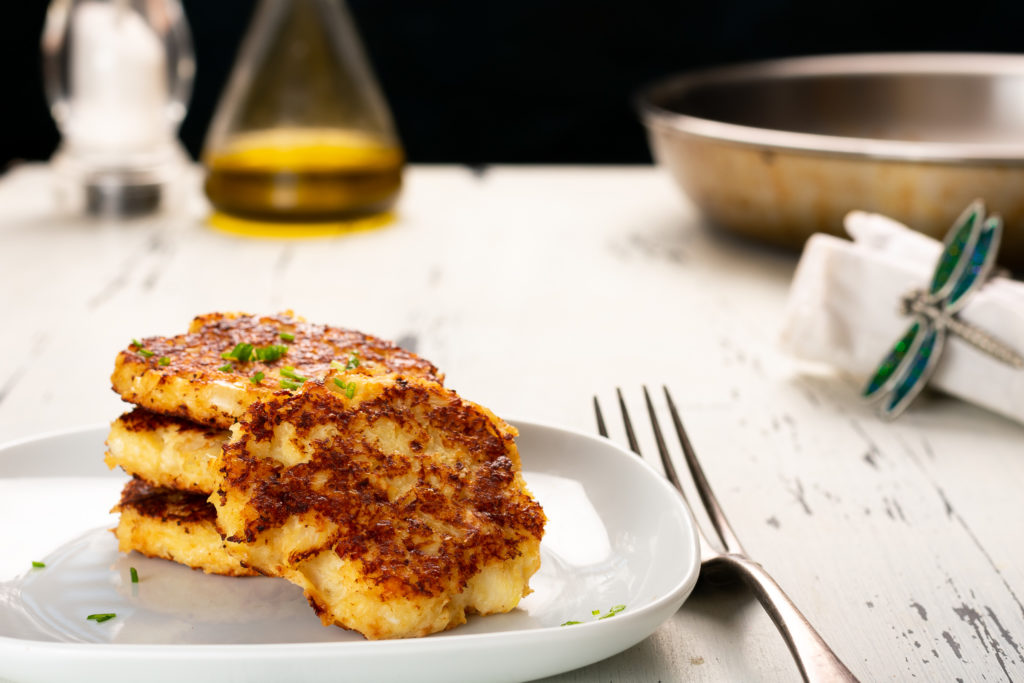 Rice the cauliflower with a food processor or with any other old school method like a shredder. If we are after a bit drier hash brown it is recommended to remove some of the water that is in the cauliflower. This can be done by simply salting the riced cauliflower and let it sit for about 20 minutes. If we are in the rush we can steam it or simply toss the whole thing into the microwave oven for 2 minutes.
Shred the cheese in case if it's not shredded already.
Finely cut the onion up using a food processor or a trusty sharp knife with the roller technique.
Using a kitchen towel or cheese cloth squeeze out as much liquid as possible from the salted, steamed or microwawed shredded cauliflower.
Put all the ingredients into a big enough bowl and mix well together.
Make little apricot sized balls out of the mixture and place one batch onto a low to medium heat oiled or buttered frying pan.
Press them gently but firmly with a spatula so they take up a round shape. Make sure the oil is hot enough before spreading the balls out.
Fry each side on low to medium heat until golden brown. This should take about 5 minutes for each side. It tends to stick and burn so check regularly but carefully as it falls apart easily before a crust is formed. A spatula is a must for stainless steel frying pans.
Optionally cauliflower hash browns can be made in the oven too. Use a parchment paper and bake them until golden brown for about 30-40 minutes at 350°F / 180°C.