Can't get enough of pizza yet there is not time to make one? Make pizza breadsticks in the blink of an eye! Tasty!
As I lately have some time, I was browsing on the web yesterday. Trying to find fresh, interesting tips, inspiring meals that I've never tested before, to astonish my loved ones with. Searching for a long time yet could not discover too many interesting stuff. Right before I wanted to give up on it, I ran across this delicious and simple treat simply by chance. The dessert seemed so delightful on its snapshot, that required instant action.
It absolutely was easy to imagine the way it is created, its taste and just how much boyfriend is going to like it. Mind you, it is quite simple to delight the man in terms of treats. Anyway, I visited the page: Suncakemom and followed the simple instuctions that had been accompanied by nice graphics of the procedure. It really makes life faster and easier. I could imagine that it is a bit of a effort to take snap shots down the middle of cooking in the kitchen because you most often have gross hands therefore i sincerely appreciate the effort and time she put in to make this blogpost and recipe easily implemented.
Having said that I'm empowered to present my very own recipes similarly. Appreciate your the idea.
I had been tweaking the original mixture to make it for the taste of my family. I can tell you it absolutely was an awesome outcome. They enjoyed the taste, the overall look and enjoyed having a sweet like this during a busy week. They quite simply asked for lots more, a lot more. Thus the next occasion I am not going to commit the same mistake. I am gonna double the volume .
Thanks for SunCakeMom who made the Pizza breadsticks recipe a reaility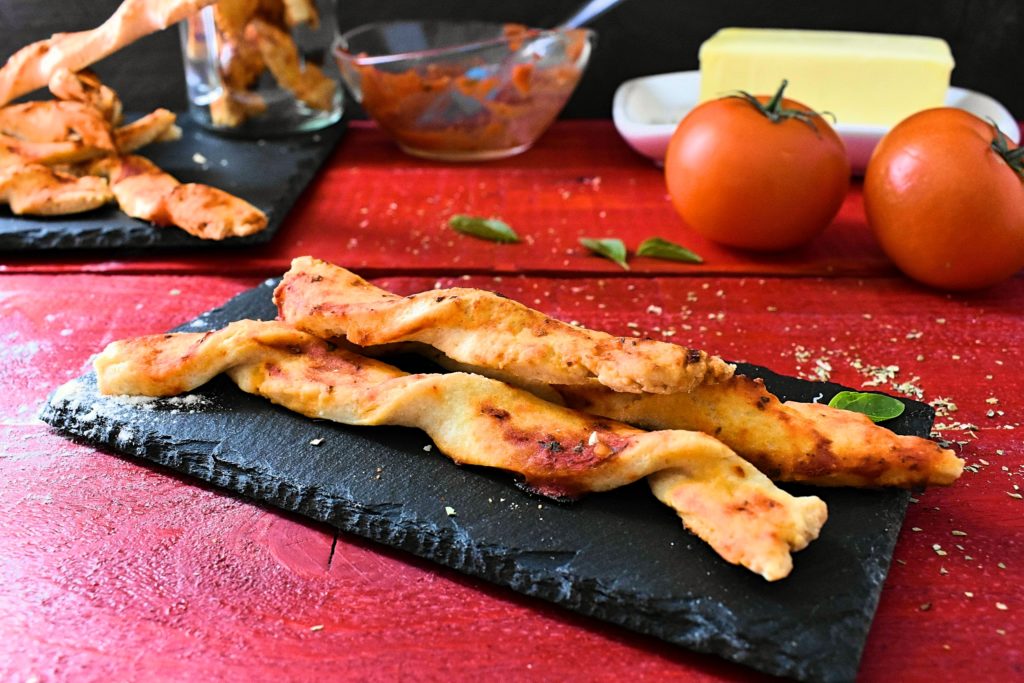 Beginner Dough
In a bowl combine flour, egg, sour cream, baking powder and softened butter.
Dough it with hands until we get an even texture.
Flatten the dough into a rectangle.
Cut finger-width slices, twist them and put twisted sticks onto the baking tray.
Topping
Puree tomato sauce or use tomato sauce to mix with salt, oregano and basil. (More tomato sauce recipes on the Low Carb Condiments page.)
Assembly
Twist the cut up dough slices and place them onto a baking tray then brush them with the tomato sauce.
Stick them into the 350°F / 180°C preheated oven for 30 minutes until crispy.