Bread braided with a buttery chocolate filling. Soft, airy bread with a charming shape and joyful chocolatey flavor to impress after the first bite.
As I lately have some time, I was looking on the internet the other day. Looking to find new, intriguing ideas, inspirational recipes that I have never used before, to delight my family with. Hunting for a long time but could not find too many interesting stuff. Right before I wanted to give up on it, I stumbled on this delicious and easy dessert by chance. It looked so yummy on its photos, it called for fast action.
It was not so difficult to imagine the way it's made, its taste and just how much my hubby will probably love it. Mind you, it is extremely easy to please the guy in terms of cakes. Anyway, I got into the blog: Suncakemom and simply followed the step by step instuctions that were coupled with great pics of the operation. It just makes life much easier. I could suppose it's a slight effort to shoot photographs down the middle of baking in the kitchen as you most often have sticky hands so that i sincerely appreciate the effort and time she put in to build this blogpost .
With that in mind I'm empowered presenting my own dishes similarly. Many thanks the concept.
I had been fine tuning the main formula to make it for the taste of my family. I've got to say it had been an incredible success. They prized the taste, the thickness and enjoyed having a delicacy like this in the midst of a stressful workweek. They basically demanded even more, a lot more. Thus the next occasion I am not going to commit the same miscalculation. I am likely to double the volume .
Braided egg bread invented by Suncakemom.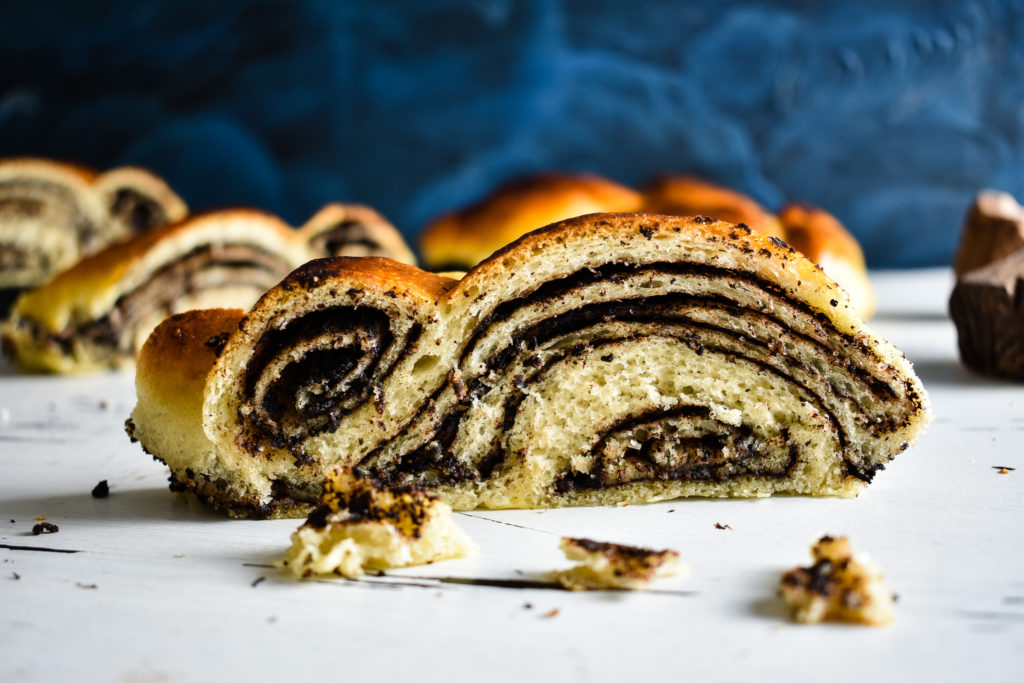 Base
Dissolve fresh yeast in lukewarm milk.
In a medium size mixing bowl add flour, butter, vanilla extract, honey and the eggs.
Pour yeasty milk on top of the flour mixture.
Knead it until it's even and the dough is off the side of the mixing bowl.
Cover the bowl and leave it in a warm place for an hour to raise.
After an hour take the dough out of the bowl onto a floured surface.
Divide it into 6 equal pieces.
Make dough balls out of them.
Find a warm place aside to place them not too close to each other, and cover them with a kitchen towel for another half an hour to raise more.
Filling
Put dice butter and put it in a mixing bowl with the cocoa powder and the honey.
Whisk them together until butter gets a creamy, easy to spread texture.
Assembly
Then start working with the first dough-ball. Place it on a well-floured surface and strew it in the size of the baking tray with a help of a rolling pin.
Spread 1/6 of the chocolate cream evenly on top.
Roll the dough into a log.
Repeat the same process with the other dough-balls as well.
Braid three logs together and place the braided bread on one side of the tray.
Repeat it with the other three logs as well.
When both bread is in the tray cover them with a kitchen towel and leave it in a warm place for another 15 minutes.
Preheat oven to 350°F / 180°C.
Break an egg and mix it with a drop of honey and vanilla extract.
Brush egg on top of the bread before putting it into the preheated oven.
Leave it in the oven for half an hour or until the top is golden brown.