Looking for a recipe to use up a bunch of ripe bananas? Almond flour banana bread is here to help! It's naturally gluten free and naturally sweet! Tasty!
As I lately have a little time, I had been browsing on the internet yesterday. Looking for new, intriguing ideas, inspirational dishes that I have never used before, to delight my family with. Looking for a long time yet couldn't find too many interesting things. Just before I thought to give up on it, I found this delightful and simple dessert simply by chance. It seemed so scrumptious on its image, it required prompt actions.
It was simple enough to imagine how it is made, how it tastes and how much boyfriend might like it. Mind you, it is very simple to keep happy the man when it comes to cakes. Yes, I am a blessed one. Or maybe he is.Anyhow, I visited the website: Suncakemom and used the simple instuctions that were coupled with superb shots of the task. It really makes life rather easy. I could imagine that it is a bit of a hassle to shoot pics in the middle of baking in the kitchen as you may typically have sticky hands thus i really appreciate the time and energy she devote to make this blogpost and recipe easily followed.
With that in mind I am inspired to present my very own formulas similarly. Thanks for the concept.
I was fine tuning the main mixture to make it for the taste of my family. I must say it absolutely was an incredible outcome. They loved the taste, the consistency and loved getting a sweet such as this in the middle of a stressful workweek. They ultimately demanded more, more and more. Thus next time I'm not going to commit the same miscalculation. I am gonna double the volume to make them happy.
The origanal almond flour banana bread gluten free recipe is from SunCakeMom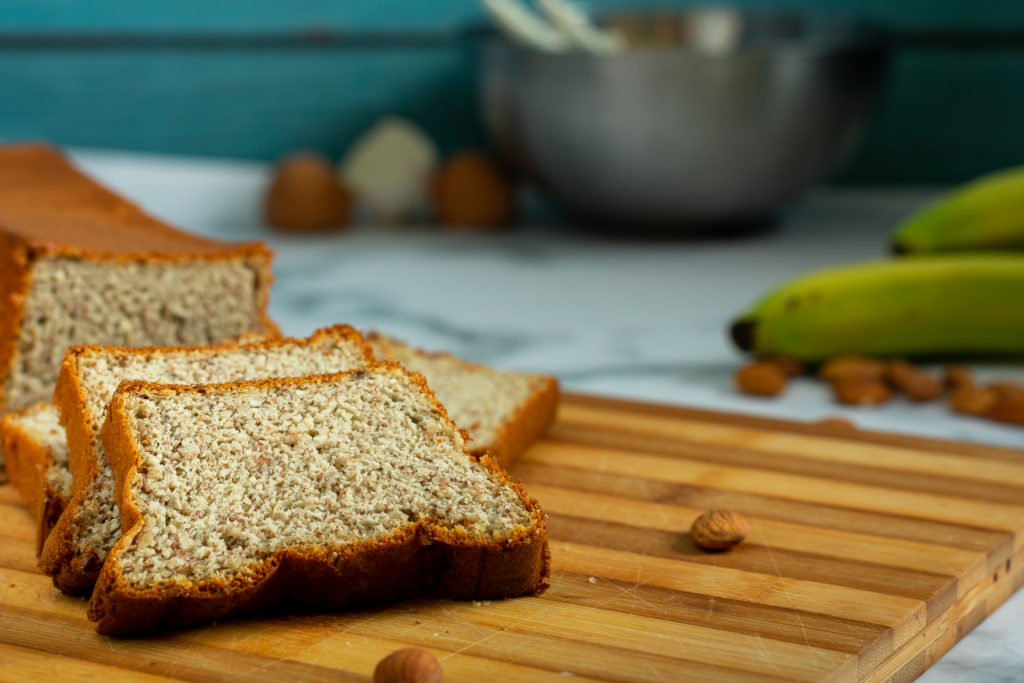 Preheat oven to 350° / 180°C.
Break and separate eggs.
Put yolks into a medium size mixing bowl to beat until light yellow and fluffy.
Mix in the mashed bananas.
Grind almond if not in flour form and add it to the egg yolk and banana mixture with the baking powder and vanilla.
Mix them well.
Beat egg whites in a medium size mixing bowl until hard peaks form.
Fold egg whites in with the batter until it gets a consistent look and feel.
Pour batter in the bread tin.
Place it into the preheated oven for 50 minutes or until the toothpick comes out clean.
Take it out and let it cool down on a rack.