Supreme homemade swirl bread to go with our hot chocolate or coffee. Sugar free recipe with naturally sweet ingredients for a guilt free pleasure.
As I most recently have a little time, I had been looking on the internet last week. Attempting to find fresh, stirring ideas, inspiring meals that I've never used before, to impress my loved ones with. Looking for quite some time but could not come across any interesting stuff. Right before I wanted to give up on it, I stumbled on this yummy and easy treat simply by accident on Suncakemom. The dessert looked so scrumptious on its photo, that required rapid action.
It had been simple enough to imagine just how it is made, how it tastes and just how much boyfriend is going to love it. Mind you, it is extremely simple to impress the guy when it comes to cakes. Yes, I'm a blessed one. Or possibly he is.Anyhow, I went to the blog and followed the step-by-step instuctions which were coupled with wonderful photos of the task. It just makes life much simpler. I could suppose it is a bit of a inconvenience to shoot pics in the middle of baking in the kitchen because you normally have sticky hands and so i seriously appreciate the commitment she devote to build this blogpost .
That being said I am encouraged to present my own recipe in a similar way. Many thanks for the idea.
I had been tweaking the original recipe create it for the taste of my loved ones. I can say that it was a great outcome. They loved the flavor, the structure and loved having a sweet such as this during a stressful workweek. They quite simply asked for lots more, many more. Thus the next time I'm not going to commit the same miscalculation. I am gonna twin the amount to get them delighted.
Chocolate swirl bread recipe Credit Suncakemom.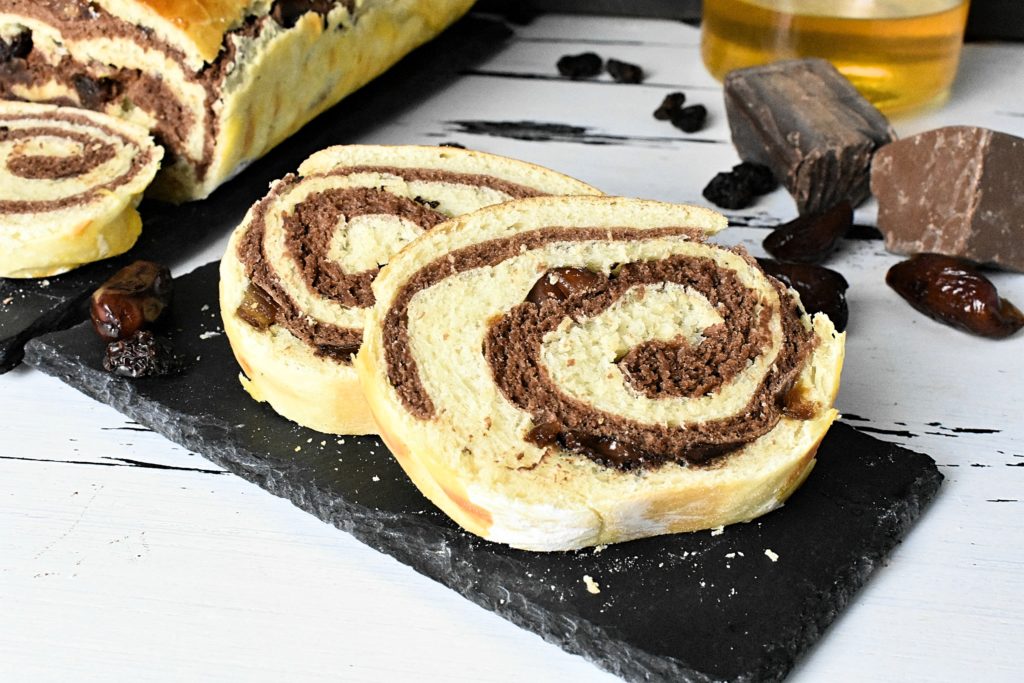 In a cup, combine lukewarm milk and yeast. Set it aside. If it gets foamy don't worry. It's completely normal.
In a large bowl, mix the flour, eggs, butter with the yeast and milk mixture very well until the dough gathers into a ball.
Put half of the dough into another bowl and leave it in a warm place to rise.
Mix the other half of the dough with the cocoa powder until even.
Put the cocoa dough half next to the other half of the dough into the bowl, cover it and leave it in a warm place for another half an hour to rise.
Now we have time to get dried fruit ready. If necessary cut them into small pieces.
After half an hour turn the dough out onto a lightly floured surface and make 4 balls out of them. 2 cocoa ones and 2 plain ones. Knead until they're smooth and elastic, leave it somewhere warm for another 20 minutes to raise.
Use a rolling pin to roll one of the dough into a flat square shape as big as our tray.
Sprinkle half of the dried fruit supply on top.
Flatten one of the other color dough into more or less the same size as the first one and put it on top.
Roll it up into a rope form and put it on the tray.
Repeat it with the other pair of dough.
Preheat oven 390°F / 200°C degree and bake it for half an hour.
Check if it's baked with a tooth pick. There's dough stuck on the tooth pick pop the tray back for another 10 minutes or so.
When it's baked leave it to cool down a bit then we can slice it easier.