This super simple strawberry smoothie with banana and yogurt is an easy, still healthy option for breakfast or afternoon snack.
As I recently have a little time, I was looking on the web a few days ago. In need of new, challenging thoughts, inspiring meals that I have never tested before, to delight my loved ones with. Searching for quite some time unfortunately could not discover too many interesting things. Right before I thought to give up on it, I ran across this delicious and simple dessert simply by chance. The dessert seemed so scrumptious on its pic, that called for urgent actions.
It was not so difficult to imagine just how it's made, its taste and how much my husband will probably want it. Actually, it is extremely simple to delight the man when it comes to desserts. Yes, I am a blessed one. Or possibly he is.Anyways, I visited the website: Suncakemom and used the comprehensive instuctions that had been combined with nice photographs of the process. It just makes life quite easy. I could suppose it's a bit of a inconvenience to take pics in the midst of baking in the kitchen because you normally have gross hands so that i pretty appreciate the hard work she devote to make this post and recipe conveniently implemented.
With that said I'm encouraged presenting my own recipe similarly. Many thanks for the idea.
I had been fine tuning the main recipe to make it for the taste of my loved ones. I've got to tell you it had been a great success. They prized the flavor, the overall look and loved getting a delicacy like this in the middle of a hectic workweek. They basically asked for lots more, many more. Thus the next occasion I am not going to commit the same miscalculation. I am going to twin the quantity to keep them pleased.
This strawberry smoothie healthy was first published on Suncakemom.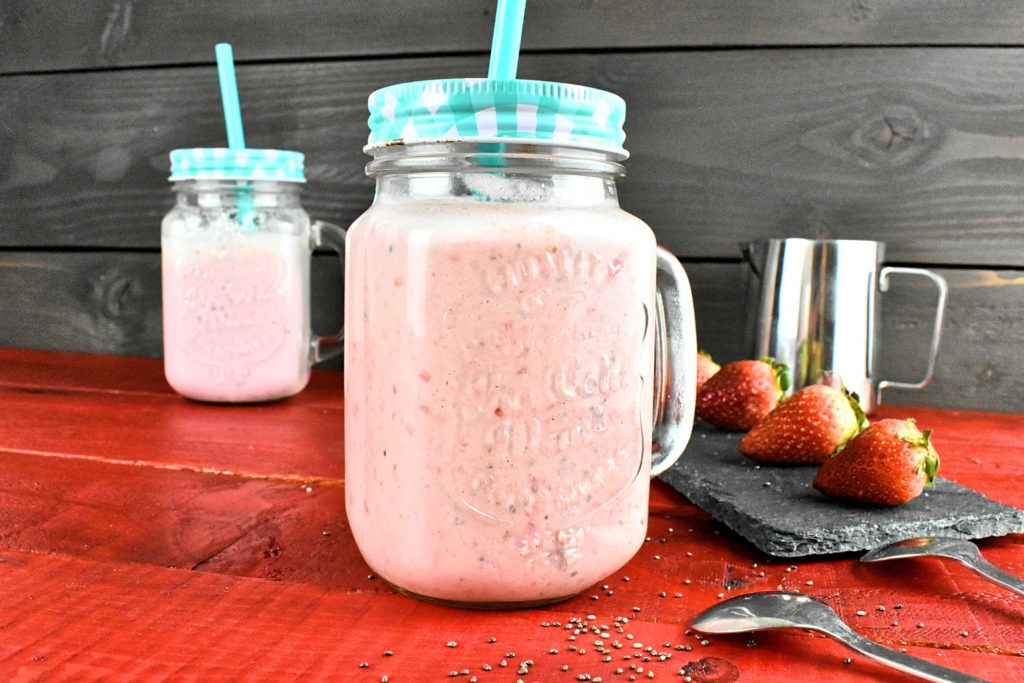 How to make Healthy Strawberry Smoothie
Place strawberries, sliced up banana, yogurt, milk and chia seed into the blender.
Cover and blend on high speed for about half a minute until smooth.
Pour into glasses and serve with straws.