Are better things out there than the simple pleasures of life? Dip chocolate shortbread cookies into chocolate and let's see!
As I most recently have some time, I had been browsing on the internet yesterday. In search of fresh, intriguing tips, inspirational dishes that We have never tested before, to astonish my family with. Searching for a while but could not discover too many interesting stuff. Just before I thought to give up on it, I ran across this tempting and easy dessert simply by chance. The dessert seemed so delightful on its photo, it required prompt actions.
It was simple enough to imagine just how it is made, how it tastes and how much boyfriend will probably enjoy it. Mind you, it is extremely simple to please the guy in terms of desserts. Yes, I am a blessed one. Or possibly he is.Anyways, I visited the website: Suncakemom and simply used the step by step instuctions that were combined with great photographs of the task. It just makes life rather easy. I could suppose it's a slight effort to shoot pics in the middle of cooking in the kitchen as you may ordinarily have gross hands so that i pretty appreciate the hard work she placed in to build this post and recipe conveniently followed.
Having said that I'm empowered presenting my personal formulas in the same way. Many thanks the idea.
I was fine tuning the initial mixture create it for the taste of my family. I must tell you it absolutely was a terrific success. They prized the taste, the structure and enjoyed having a delicacy like this in the middle of a lively workweek. They ultimately wanted more, many more. So the next occasion I am not going to make the same miscalculation. I am going to twin the amount .
This is based on the Chocolate Shortbread Recipe from SunCakeMom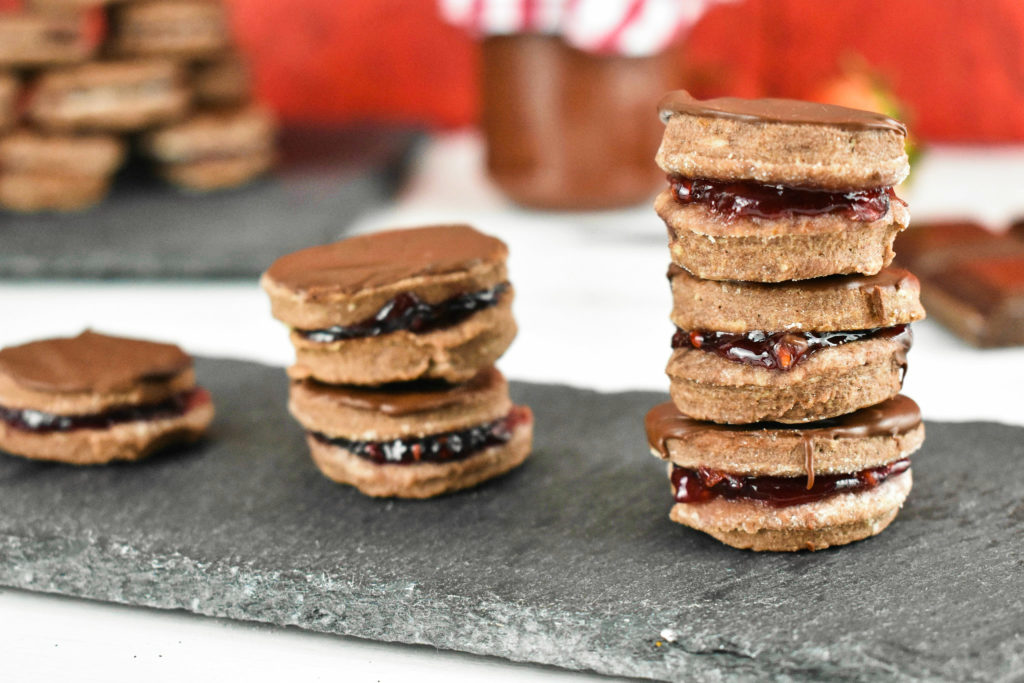 Put all cookie ingredients in a medium size mixing bowl then work it together by hand until getting an even dough.
Take dough out of the bowl onto a lightly floured surface and roll it flat. Flouring underneath the dough is important as this coating will prevent it to stick down.
Cut out the shapes with a round cookie cutter and place them on the tray.
Put cookies into the 350°F / 180°C preheated oven for 10-15 minutes to bake.
Take them out and let them cool down before filling them with the jam.
Stick two together with a teaspoon of jam.
Melt chocolate with the butter.
Dip the cookies or spread the chocolate on top.
Leave them cool down for a couple of hours before serving it.