Do we choose our names or the name chooses us? Let's make some Russian Tea Cake and see if it was happier with another one!
As I currently have a little time, I had been looking on the internet last week. Trying to get fresh, fascinating ideas, inspiring recipes that I have never tried before, to astonish my family with. Hunting for a while but couldn't come across lots of interesting things. Right before I wanted to give up on it, I came upon this delicious and simple dessert by chance on Suncakemom. It looked so yummy on its pic, it required fast actions.
It had been simple enough to imagine just how it's created, its taste and just how much my husband might love it. Mind you, it is very easy to impress the guy when it comes to treats. Anyhow, I got into the page and then used the detailed instuctions that were accompanied by great pictures of the procedure. It just makes life faster and easier. I can suppose it's a bit of a inconvenience to take snap shots down the middle of baking in the kitchen as you typically have gross hands so that i genuinely appreciate the effort and time she put in for making this post and recipe conveniently implemented.
With that in mind I am empowered presenting my personal dishes in a similar way. Appreciate your the thought.
I was tweaking the initial recipe to make it for the taste of my loved ones. I can tell you it had been a terrific success. They loved the taste, the thickness and loved getting a delicacy like this in the midst of a stressful week. They quite simply asked for even more, a lot more. Hence the next occasion I am not going to make the same miscalculation. I am gonna double the quantity .
Russian Tea Cakes is from suncakemom.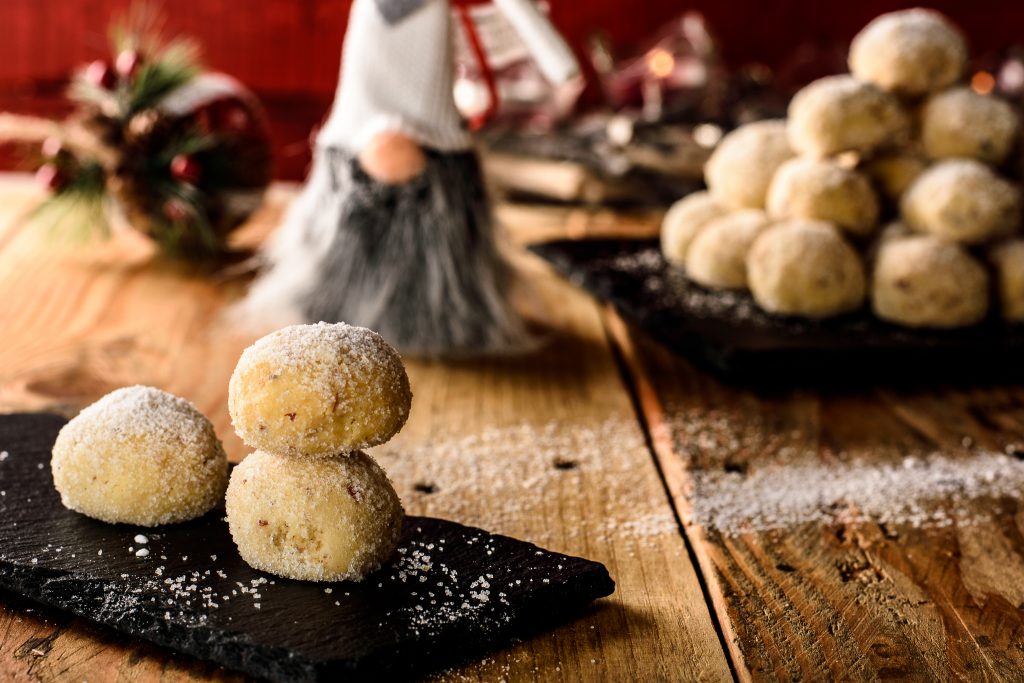 Old school
Chop the nuts to convenient size. We can use a mixture of nuts or our favorite one.
Add flour, butter, half of the sweetener, vanilla extract, salt and the chopped nuts into a mixing bowl.
Knead everything together.
Roll the dough into a log so it will be easier to measure out similar sized balls.
Measure out the desired sized balls. We like walnut sized balls that are about 0.7 oz / 20g.
Roll the dough into balls then place them onto a parchment lined baking tray.
Place them into a 375°F / 180°C oven until golden brown spots start to appear on them for about 30 minutes. Later they will be a bit more forgiving but now handle them with care.
Spread the other half of the powdered sweetener on a tray and roll the hot balls into until all sides are covered.
Sift a bit more powdered sweetener over the cookies then serve.