How long has an idea grown before it pops out successfully? Let's make Cinnamon Swirl Bread that's growing with us for centuries!
As I most recently have a little time, I was browsing on the web a few days ago. Trying to find fresh, interesting ideas, inspirational dishes that We have never tasted before, to astonish my loved ones with. Hunting for a long time yet couldn't come across too many interesting things. Right before I wanted to give up on it, I found this yummy and easy dessert by chance. It seemed so tempting
on its snapshot, it required immediate actions.
It was not so difficult to imagine how it's made, how it tastes and how much boyfriend is going to want it. Actually, it is quite simple to please the man in terms of treats. Anyhow, I went to the blog: Suncakemom and simply used the step-by-step instuctions that had been coupled with impressive photographs of the process. It really makes life much easier. I can imagine that it is a slight inconvenience to take photos in the midst of baking in the kitchen because you normally have sticky hands and so i really appreciate the effort and time she devote to make this post .
With that said I'm encouraged presenting my own, personal dishes in a similar way. Many thanks for the concept.
I had been tweaking the initial mixture to make it for the taste of my family. I must say it turned out an awesome outcome. They enjoyed the flavor, the consistency and loved having a sweet such as this in the midst of a lively workweek. They quite simply wanted more, a lot more. So next time I'm not going to make the same mistake. I'm likely to twin the amount .
This Cinnamon Swirl Bread is from SunCakeMom.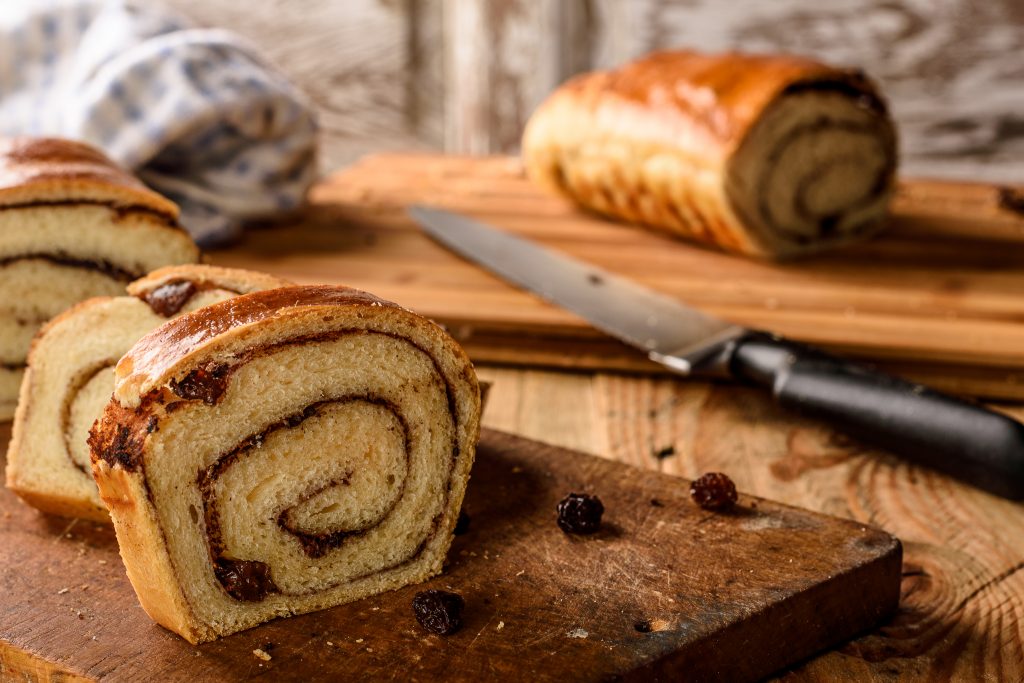 In a large bowl add the flour, eggs, butter, yeast and milk.
Knead them together until the dough gathers into a ball.
Put half of the dough into another bowl, cover it and put it aside in a 68°F – 81°F / 20°C – 27°C place to rise.
After about 30 – 90 minutes depending on the temperature, the dough should be doubled or at least raised.
Take the dough out onto a lightly floured surface. The recipe is for 2 rolls and will need to divide the dough into 4 possibly equal parts.
Roll two of the dough out to the size of our baking tin.
Then roll it out in the other direction about 4 times as much.
Filling
Cut the fruits and chocolate to the size we like them best.
Cream butter, cinnamon and optional sweetener with an electric beater.
Assembly
Spread half of the buttery cinnamon on top of one of the dough then sprinkle half of the dried chocolate on top.
Place another dough on top. It doesn't have to be pretty and luckily the dough will allow us plenty of adjustments one placed on each other.
Roll it up gently. It doesn't have to be tight.
Sprinkle on some water then cover the dough with a cloth and put it back to a 68°F – 81°F / 20°C – 27°C place for 30 – 60 minutes to rise again.
Once it's risen, beat egg yolk and a brush it on top.
Put the dough into a preheated 365°F / 180°C oven and bake it until its top is getting a lovely golden brown color, for about half an hour.
Let it cool a bit then slice and serve.