Looking for a liver pate substitution or just a great pate on its own? Explore the possibilities while trying out this lovely mushroom pate!
As I recently have a little time, I was surfing on the web a few days ago. Trying to get new, interesting thoughts, inspiring meals that I've never tested before, to astonish my family with. Searching for a while unfortunately could not find too many interesting things. Right before I wanted to give up on it, I ran across this scrumptious and easy treat simply by chance. The dessert looked so fabulous on its photos, that required instant action.
It had been not so difficult to imagine just how it is created, how it tastes and just how much my husband will love it. Mind you, it is extremely easy to delight him in terms of treats. Yes, I'm a blessed one. Or possibly he is.Anyways, I went to the blog: Suncakemom and simply used the comprehensive instuctions that have been combined with great snap shots of the process. It really makes life much easier. I can imagine that it is a slight hassle to shoot snap shots in the middle of baking in the kitchen as you most often have gross hands so I pretty appreciate the hard work she put in to make this post and recipe easily implemented.
With that said I am encouraged presenting my own, personal recipes in the same way. Many thanks the thought.
I was fine tuning the main mixture to make it for the taste of my loved ones. Need to mention it absolutely was an awesome outcome. They prized the taste, the overall look and enjoyed getting a delicacy like this in the middle of a lively week. They basically requested more, more and more. Thus the next occasion I'm not going to make the same miscalculation. I'm gonna multiply the amount .
You can find the original mushroom pate recipe at SunCakeMom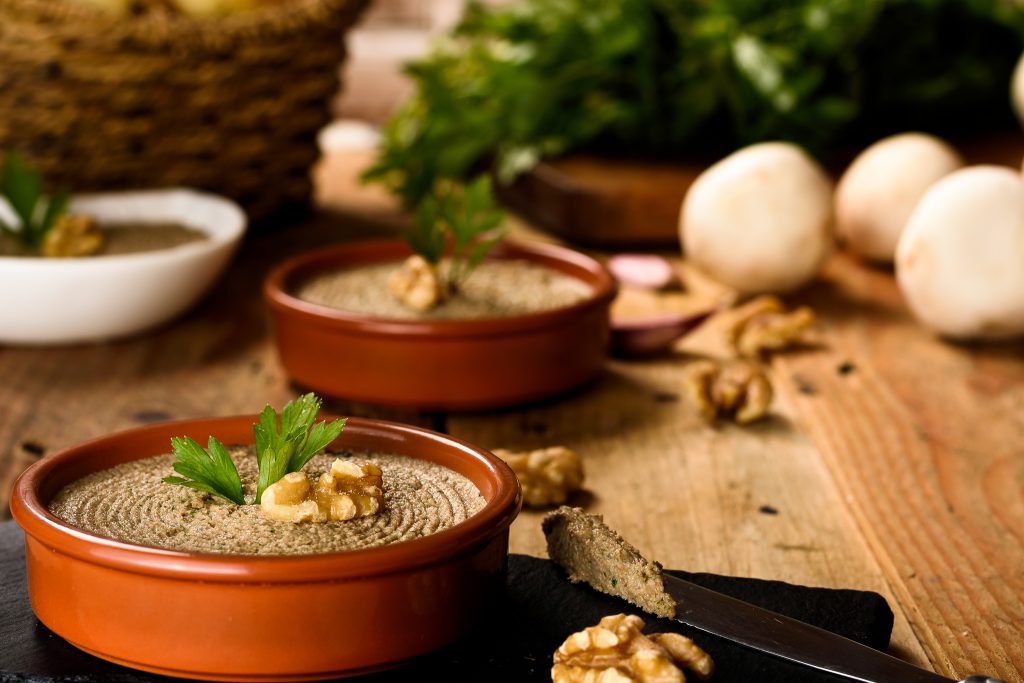 Pour ¼ cup / 50ml oil into a frying pan and roast the walnuts on medium to high heat until most of them gets a golden brown color for about 5-10 minutes.
Remove the walnuts from the frying pan then add ½ cup / 100ml oil and the finely diced onions. It can be shallot, red onion or any other onion and saute it on high heat until golden brown spots start to appear on them for about 3 minutes.
Add the sliced up mushrooms to the onions and continue sauteing on high heat until the mushrooms collapse and get a slight golden brown color for about 10 minutes.
Add the crushed garlic and a selection of chopped herbs. Try not to add more than 2 at the same time as it can overpower the dish.
Add salt, pepper and saute until the garlic gets fragrant for about 3- 5 minutes then add the roasted walnuts back.
Pour the whole content of the frying pan into a food processor. Mind to let it cool down a bit if we have a plastic container as the heat may damage it.
Give it a good whirl for a couple of minutes then try it. Flavor to taste and mix it well until we get a smooth consistency pate.
Fill the ramekins or whatever we have at hand with the pate. We can melt butter on top of them if desired but the mushroom pate can be used and enjoyed as it is. Place them in the fridge for a couple of hours before serving.