What to do with crumbled cakes is an intriguing question. Look no further! Stale cakes are the perfect base for this no bake leftover cake recipe.
As I most recently have some time, I had been searching on the internet yesterday. Trying to get fresh, stirring ideas, inspiring recipes that I have never tried before, to delight my loved ones with. Looking for a long time but could not come across lots of interesting things. Just before I thought to give up on it, I came across this tempting and simple dessert by chance. The dessert seemed so delicious on its snapshot, that called for fast action.
It had been not so difficult to imagine the way it's made, how it tastes and just how much boyfriend might like it. Mind you, it is rather simple to impress the guy in terms of treats. Yes, I'm a blessed one. Or perhaps he is.Anyway, I visited the site: Suncakemom and simply used the detailed instuctions that were accompanied by superb images of the method. It really makes life much simpler. I could suppose it is a slight effort to shoot photographs in the midst of cooking in the kitchen as you usually have gross hands therefore i pretty appreciate the commitment she placed in to build this blogpost and recipe easily implemented.
Having said that I'm encouraged presenting my own formulas in a similar fashion. Many thanks the idea.
I had been fine tuning the main recipe create it for the taste of my loved ones. I have to tell you it turned out a terrific outcome. They enjoyed the taste, the overall look and loved getting a delicacy such as this during a hectic workweek. They ultimately demanded more, a lot more. Hence the next time I'm not going to commit the same miscalculation. I am gonna double the quantity .
The Leftover cake is from SunCakeMom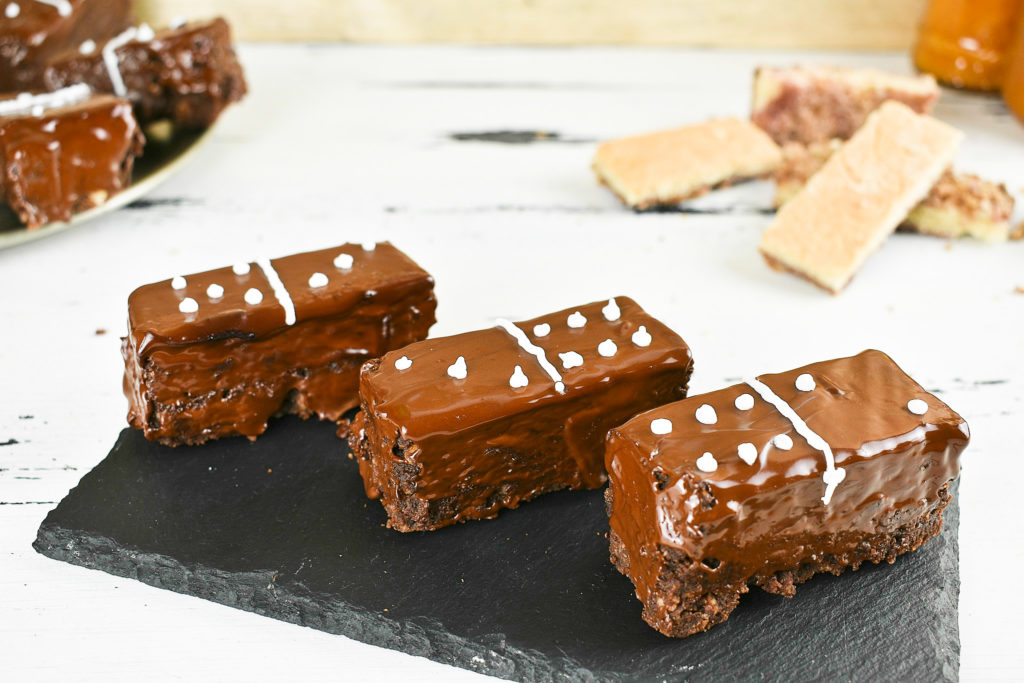 Measure leftover cakes and add some crushed cookies to it in case there's not enough leftovers. Put it in a medium size bowl to mix.
Dice up and soften butter if necessary. Take butter out of the fridge half an hour before use or put it in a microwave for a couple of seconds to be soft enough to work with easily.
Depending on what the leftover cake tastes like put unsweetened cocoa powder into the bowl as well. In our case it is a chocolate based (Sacher torte) leftover which is originally made with cocoa powder and chocolate so it only needed 1 tbs cocoa powder. In any other non-chocolatey leftovers don't hold back and put at least 2 tbs cocoa powder into the bowl followed by the jam of preference, butter, raisins and rum aroma.
Mix it until all ingredients are evenly placed in the dollop.
Form the dollop into a rectangle shape.
Flip the base upside down onto a wire rack and place the wire rack onto a parchment paper.
Mark the pieces out. Cut the base at the markings.
Melt chocolate for icing.
Pour melted chocolate on top of the pastry.
Spread melted chocolate evenly.
Put rack in the fridge for half an hour. Let the chocolate settle.
Draw domino dots and lines.