Getting off gluten and need something to fill up the cookie jar? Making gluten free shortbread cookies from rice flour is a treat!
As I recently have some time, I was looking on the internet last week. In need of new, interesting tips, inspirational recipes that I have never used before, to surprise my family with. Searching for a long time but could not come across lots of interesting things. Right before I wanted to give up on it, I discovered this delicious and easy dessert simply by chance at Suncakemom. It looked so fabulous on its photos, that called for quick actions.
It absolutely was easy to imagine how it's made, how it tastes and how much my hubby will love it. Actually, it is very easy to delight the man when it comes to cakes. Yes, I am a blessed one. Or perhaps he is.Anyways, I visited the webpage and simply followed the step by step instuctions that have been combined with great graphics of the procedure. It really makes life rather easy. I could imagine that it's a slight inconvenience to take photographs in the middle of cooking in the kitchen as you may typically have gross hands therefore i really appreciate the time and effort she put in to build this post .
That being said I'm inspired presenting my personal formulas in a similar fashion. Many thanks the concept.
I had been tweaking the initial recipe create it for the taste of my loved ones. I have to tell you it absolutely was a great success. They enjoyed the flavour, the overall look and loved having a delicacy such as this in the middle of a lively week. They ultimately wanted lots more, many more. Thus the next occasion I am not going to commit the same miscalculation. I'm going to multiply the quantity .
This gluten free shortbread cookies recipe is from SunCakeMom.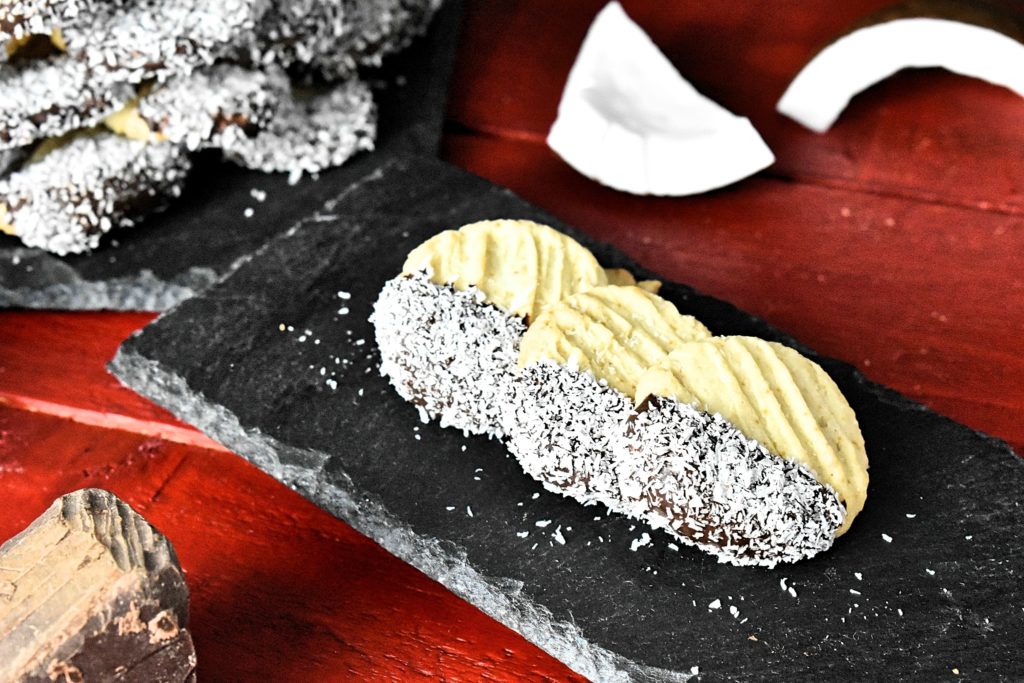 Measure out rice flour into a medium size mixing bowl then melt coconut oil of needed and pour it straight into the mixing bowl.
Add coconut milk, egg, baking powder and bananas or sweetener of choice into the bowl, too. Dough it until we get an even mixture.
Either make little dough balls by hands or if having sticky hands is too much to bear then use a tablespoon to place pieces dough onto the baking tray.
Flatten the dough with a fork.
Put the tray into the 350° / 180°C preheated oven for about 15-20 minutes. Take cookies out when they are golden brown.
Melt chocolate.
Dip half of the cookies into the melted chocolate or use a spoon to pour the chocolate on them.
Dip them into shredded coconut.
In case the drying rack is busy be creative. Keep rice cookies preferably in a cool, dry place.