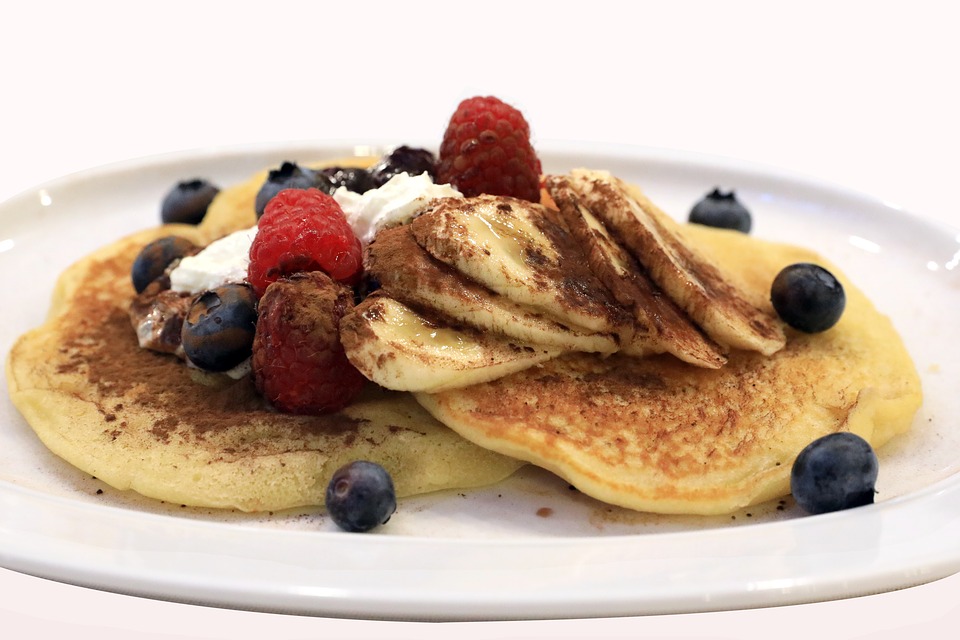 When I think of Crepes I think of my first experience at the farmer's market at the Grove in Los Angeles. That's right, I don't conjure up visions of a street vendor in Paris, France on a crisp morning. Instead, I remember being surrounded by crates of fresh fruits and vegetables. I remember the long line I had to stand in just to order. And I remember the 30 minute wait to actually be called up to the counter to carry off my prize. Totally and completely worth it.
I recently discovered Z's Cup of Tea If you haven't added this blog to your regular reads, do it – you won't be sorry! While meandering through all the tasty recipes on her blog, I came across a recipe for almond flour crepes. Honestly, when I started cooking it, I didn't have high hopes. It just didn't seem possible to me that crepes made out of almond flour could be light yet flavorful. Mmm.. am I glad I was wrong.
Gobble these crepes down with a delicious pear filling or jam or my personal favorite – both jam AND pears at the same time. If 10 crepes sounds like a lot, trust me, next time you'll be doubling the batch. (Actually – they are tiny – I think 10 of these crapes are enough to make a mighty breakfast for 2!)
Makes: 10 crepes
1. In a medium bowl, beat the eggs.
2. Beat in the almond flour, honey, vanilla and salt to form a thin batter.
3. Heat the olive oil in a fry pan over medium heat. An 8 inch pan is the perfect size. Once it's hot, scoop 1/4 cup of the batter into the pan. Swirl it around immediately so that the batter coats the entire base of the pan.
4. Once the top is mostly set (about 1 – 2 minutes) but still wet, flip the crepe. Cook the other side for about 10 seconds.
5. Cut and core the pears into inch thick chunks. Combine the pears, cinnamon and nutmeg in a pan over medium high heat.
6. Cook the pears until the pieces are soft and it's juices released (about 5 minutes).
7. Serve the crepes folded around the pear filling. Spreading jam on the crepes tastes pretty amazing too.
You'll Definitely Like These!